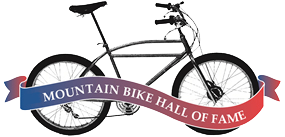 Announcing your 2017
Mountain Bike Hall of Fame Inductees!

Brent Foes has applied his ability with fabrication and craftsmanship to bring innovations to off-road cycling through simplicity, with products that stand the test of time and the riders that have chosen his frames. "Made in the USA his way" is his approach. He was not the first to use hydro forming for his bike frames, but was the first to bring a 6-inch travel mountain bike to the market. More…
When Giovanna Bonazzi traveled to the US in 1992 to compete in World Cup mountain bike events, she was already a role model for Italian women. In the early 1990s mountain biking was still very much centered on US brands, teams and athletes. By 1992 Europe was building a strong mountain bike racing foundation and  Giovanna's international presence helped to join Europe and American mountain bike competition…  More…
Advances in any sport are evolutionary. Successful ventures are built on and refined, while failed ones are discarded. This premise guides Mark Norstad, the founder and owner of Paragon Machine Works, when he designs and manufactures his bicycle frame building components.
Mark Norstad took up riding bicycles off road in the early 1970s, before they were named mountain bikes. A desire to learn metal work led to his taking machine shop classes in high school and beyond. When he founded Paragon Machine Works in 1983, he was launching a venture that would combine his two passions, mountain biking and metal work, and lead to advances in both.  More…
Pure passion is something that cannot be replaced with anything else. Wolfgang Renner has contributed to mountain biking on many levels as a manufacturer, journalist, race organizer, traveler and 3-D photographer. In a nutshell, he is mountain biking's first advocate and promoter in Europe. Leading up to all this, Renner had been a champion of artistic cycling and cyclocross, had founded his own bicycle company in 1976 and had literally brought the sport of BMX to Germany in 1979.  More…

Amazing group of Inductees! Everyone on the ballot is worthy of induction, but we can only take the top vote-getters each year—which makes it tough. Did your favorite not make it in this year?…check our Nominees page for our roster of roll-forwards for next year's ballot.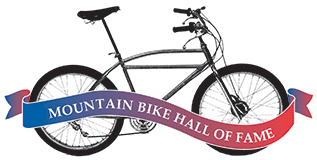 ---
The Mountain Bike Hall of Fame Story
The Mountain Bike Hall of Fame was founded in 1988 in Crested Butte, Colorado. Ten mountain biking pioneers were inducted in that first year. Since then, three to seven mountain bike legends have been selected annually. In 2015, the Mountain Bike Hall of Fame relocated to the Marin Museum of Bicycling in Fairfax, California, where its exhibits were greatly expanded. At the museum in Fairfax, the rich history of the sport comes to life—guided by the people who made that history. The exhibits illustrate the evolution of the mountain bike with numerous bikes that are key to the story, along with memorabilia, stories of Hall of Fame Inductees and a growing archive.
Looking for an inductee, event or bike from years ago? Try scrolling through the list below, or clicking a year in the sidebar on the right or enter a name in the search box. There's lots to see with some fascinating stories and great photos. Many of these posts have never been edited or updated from their original submissions. You may find some pretty "curious" old information. So keep that in mind while reading and enjoy a blast from the past (or the present)!
Are you a Hall of Fame member?
Memberships provide the support we need to continue operations—not just during the election season, but all year long. Your support allows us to keep the museum and Hall of Fame open. Join or renew your membership today and keep us rolling!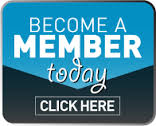 Apply for your Mountain Bike Hall of Fame Membership Online. ⇐ This link will take you to our secure Membership Application page. Fill out the application form, choose a membership level and purchase online. You will get a link for how to access our Web Portal in your membership confirmation email.
Membership Application ⇐ This link will download to your computer the membership application form, which you can print and fill out by hand, then mail or deliver to us with your check, money order or cash.
MOUNTAIN BIKE HALL OF FAME
NOMINATION & INDUCTEE SELECTION PROCESS
How do you get into the Mountain Bike Hall of Fame? Great question. Each year, four individuals or small groups of individuals are inducted. There was one exception, 1988, our charter year, when we inducted ten people into the Hall. How do we select our Inductees?
First off, Inductee candidates are proposed for the ballot through our nomination process. Anyone can submit a nomination for someone they feel is worthy of induction and meets the published criteria. Next, the Hall of Fame Nominating Committee does fact-checking and vets all the nominations. Finally, the eligible nominees are announced in the Spring and put up on the website to be introduced to the membership. All current members of the Mountain Bike Hall of Fame are eligible to vote. The members cast their votes, the Hall of Fame staff counts the votes and publishes the results. We announce the new Inductee-elects on our website and through an email blast. The inductee-elects become official Mountain Bike Hall of Fame Inductees at the annual Induction Ceremony in September or early October. See the Nominees page on this website for more information. That's how it works.
MOUNTAIN BIKE HALL OF FAME INDUCTEES 1988-2017
June 11, 2016

March 27, 2014

March 27, 2014

March 27, 2014

March 27, 2014

March 27, 2014

March 27, 2014

March 27, 2014

March 27, 2014

March 27, 2014

March 27, 2014

March 27, 2014

March 27, 2014

March 27, 2014

March 27, 2014

March 27, 2014

March 27, 2014

March 27, 2014

March 27, 2014

March 27, 2014

March 27, 2014

March 27, 2014

March 27, 2014

March 27, 2014

March 27, 2014

March 27, 2014

March 27, 2014

March 27, 2014

March 27, 2014

March 27, 2014

March 27, 2014

March 27, 2014

March 27, 2014

March 27, 2014

March 27, 2014

March 27, 2014

March 27, 2014

March 27, 2014

March 27, 2014

March 27, 2014

March 27, 2014

March 27, 2014

March 27, 2014

March 27, 2014

March 27, 2014

March 27, 2014

March 27, 2014

March 27, 2014

March 27, 2014

March 27, 2014

March 27, 2014

March 27, 2014

March 27, 2014

March 27, 2014

March 27, 2014

March 27, 2014

March 27, 2014

March 27, 2014

March 27, 2014

March 27, 2014

March 27, 2014

March 27, 2014

March 27, 2014

March 27, 2014

March 27, 2014

March 27, 2014

March 27, 2014

March 27, 2014

March 26, 2014

March 26, 2014

March 26, 2014

March 26, 2014

March 26, 2014

March 26, 2014

March 26, 2014

March 26, 2014

March 26, 2014

March 26, 2014

March 26, 2014

March 26, 2014

March 26, 2014

March 26, 2014

March 26, 2014

March 26, 2014

March 26, 2014

March 26, 2014

March 26, 2014

March 26, 2014

March 26, 2014

March 26, 2014

March 26, 2014

March 26, 2014

March 26, 2014

March 26, 2014

March 26, 2014

March 26, 2014

March 26, 2014

March 26, 2014

March 26, 2014

March 26, 2014

March 26, 2014

March 26, 2014

March 26, 2014

March 26, 2014

March 26, 2014

March 26, 2014

March 26, 2014

March 26, 2014

March 26, 2014

March 26, 2014

March 26, 2014

March 26, 2014

March 26, 2014

March 26, 2014

March 26, 2014

March 26, 2014

March 26, 2014

March 26, 2014

March 26, 2014

March 26, 2014

March 26, 2014

March 26, 2014

March 26, 2014

March 26, 2014

March 26, 2014

March 26, 2014

March 25, 2014

March 25, 2014

March 25, 2014

March 25, 2014

March 25, 2014

March 24, 2014

March 24, 2014

March 24, 2014

March 24, 2014

March 14, 2014

March 14, 2014

March 14, 2014

March 14, 2014

February 10, 2014

February 10, 2014

February 10, 2014

February 10, 2014

February 10, 2014

February 9, 2014

February 8, 2014

February 8, 2014

February 8, 2014