Alison Sydor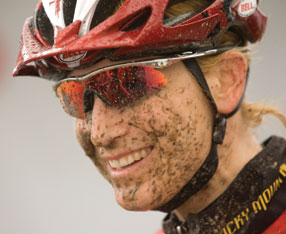 Alison Sydor is one of the most well-known names in mountain biking today. She has firmly established herself as a legend in the sport with an impressive resume full of victories. She has won three World Championship titles, the Silver Medal at the 1996 Olympics in Atlanta, three UCI World Cup titles and seventeen World Cup wins, and more NORBA races than you can count. In 1996 she won the International Cyclist of the Year from Velo News beating out 5 Time Tour de France winner Miguel Indurain. Top this off with 12 World Championship Medals in her career.
The Canadian born Sydor started her career in cycling racing on the road. She won four Canadian National Road Championships and earned a spot on the Canadian National Road Team. Soon after joining the national team she became the first Canadian woman ever to earn a World Championship medal, with a Bronze Medal
Sydor was extremely successful on the road, but with her love for the mountains and trails, she realized her passion was for off-road racing. She began her mountain bike racing career in 1991 and took first place at the World Cup Cross-Country round in Chateu D'Oex, Switzerland.
The first time Alison won the Mountain Bike World Championships in 1994 was a major turning point for her. Prior to the win, Alison wondered if she would ever be talented enough to achieve such major victories in Mountain Biking. She says that when it sunk in that she had won such a huge title and achieved a lifelong personal dream, the accomplishment gave her confidence in her racing as well as in her outside life.
Through her success, she has become a role model for mountain-bikers, outdoor enthusiasts, and young athletes. She says she takes her inspiration from her teammates and training partners. "I draw from their energy, motivation and tremendous work ethic as they train to pursue their own dreams, and that is something that inspires me." She is very popular at races, taking time to talk to fans and being especially available for the media. She believes part of her job is to promote mountain bike racing and its image to better the sport overall.
Career Highlights
 2007
1st place Trans Alp Challenge (mixed category with Carsten Bresser)
3rd Ischgl Ironbike marathon
2006
9th place world championships Rotorua
3rd overall Sea Otter
1st Fontana NORBA short track
1st roc dazur
2005
6th place world championships Livigno
1st overall Sea Otter
1st overall Boerne NORBA
2nd place overall Trans Alp Challenge (mixed category with Andeas Hestler)
1st Marathon world cup finals roc dazur
2004
4th place Olympic Games Athens
Bronze medal World Championships Le Gets
1st overall Waco NORBA
1st overall swiss cup national series
4th overall world cup series
1st roc dazur
1st Vermont NORBA short track
2003 Key Results
2nd World Championships Lugano, Switzerland
1st Continental Championships Columbia
2nd World Cup XC Vancouver, Canada
1st Norba Short Track, Durango CO
2nd Norba XC, Durango,CO
1st Norba Short Track Idaho
2nd Norba XC Idaho
 2002 Key Results
4th Place World Championships, Kaprun, AUT
3rd World Cup XC, Grouse Mtn., Canada
4th World Cup Finals XC, Les Gets, France
5th World Cup XC, Madrid, Spain
9th World Cup XC, Houffalize, Belgium
2nd Norba NCS XC, Mt. Snow, Vermont
3rd Swiss Cup Granichen
3rd Norba Short Track, Troy, Wisconsin
3rd Norba Short Track Durango, Colorado
3rd Norba Short Track, Mt. Snow, Vermont
4th Sea Otter Classic, Monterey, California
4th Norba XC, Troy, Wisconsin
5th Norba NCS XC, Durango, Colorado
2001 Key Results
2nd, World Championships, Vail, Colorado
3rd, UCI World Cup, Napa Valley, California
8th, UCI World Cup, Houffalize, Belgium
6th, UCI World Cup, Grouse Mountain, Canada
8th Overall, UCI World Cup Series
1st, Canadian National Championships
3rd, NORBA XC, Mt. Snow, Vermont
3rd, NORBA Short Track, Mt. Snow, Vermont
4th, NORBA NCS STXC, Deer Valley, Utah
5th Overall, Sea Otter Classic, Monterey, California
2000 Key Results
5th, Olympic Games, Sydney, Australia
2nd, World Championships, Spain
3rd overall, World Cup
1st, World Cup, Mazatlan, Mexico
3rd, World Cup, Sarentino, Italy
2nd, World Cup, Canmore, Alberta, Canada
1st, Whistler International Classic Stage Race
 1999 Key Results
2nd, World Championships, Are, Sweden
1st overall, World Cup Series
Silver Medal, Pan American Games
Order of British Columbia
3rd, World Cup Napa, California
1st, World Cup Sydney, Australia
2nd, World Cup Madrid, Spain
2nd, World Cup St. Wendel, Germany
3rd, World Cup Plymouth, England
1st, World Cup Big Bear, California
3rd, World Cup Canmore, Alberta, Canada
3rd, World Championships, Mt St-Anne, Canada
1st overall, Cactus Cup, Arizona
1st, Sea Otter Classic, Monterey, California
Canadian National MTB Champion
2nd, Canadian National Road Race Championships
1st overall, World Cup Series
1st, World Cup Napa, California
2nd, World Cup Silves, Portugal
3rd, World Cup Plymouth, England
1st, World Cup Canmore, Alberta, Canada
2nd, World Cup Conyers, Georgia
2nd, World Cup Bromont, Quebec, Canada
1st, NORBA Seven Springs, Pennsylvania
1st, NORBA Red Wing, Minnesota
1st, NORBA Finals, Mt. Snow, Vermont
1st, Mercury Tour, Colorado
Canadian Female Mountain Bike Athlete of the Year
Woman Mountain Biker of the Year, VeloNews