Philip Keyes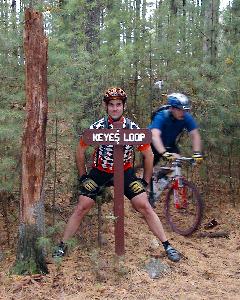 We hereby submit our nomination of Philip Keyes for 2008 induction into the Mountain Bike Hall of Fame, in the Advocacy category.
Philip Keyes has been an ardent, articulate and effective advocate for Mountain Biking for 20 years. He is highly visible and well known to mountain bike enthusiasts and industry folk alike. He has been instrumental in the growth and development of The New England Mountain Bike Association (NEMBA) since its inception in 1988.
Under Philip's leadership NEMBA has grown from a grassroots club into one of the largest mountain bike advocacy organizations in the nation. Celebrating its 20th anniversary, NEMBA now has over 5,000 members and 18 regional chapters providing local trail care, advocacy, and events in all six New England states.
Six years ago, when "Vietnam", one of the region's most cherished ultra-technical trail networks was threatened with development, Philip shifted NEMBA into the big ring of major fundraising campaigns. Philip helped to coordinate a diverse team of local volunteers and a large network of industry players. Philip tirelessly hammered on this task in every conceivable way, garnering national attention and support. Eighteen months later we had raised over $270,000, becoming the first ever mountain bike club to buy land to preserve trails.
Philip's influence reaches well beyond New England, for many years he has been the Access columnist for Dirt Rag, keeping riders all over the world enlightened and informed about important issues affecting the trails we love. His words and actions continue to guide and inspire not-so random acts of trail kindness every month.
Philip has also made good use of his writing skills by assisting NEMBA trail workers with preparing and shepherding hundreds of state and local grant proposals over the years. He has forged cooperative alliances with industry supporters, land managers, government agencies, and other trail users. His direct efforts and his support of hundreds of committed NEMBA volunteers have dramatically improved the regions' trails, and elevated the recognition of mountain bikers as responsible and effective trail stewards.
Philip lives and breathes mountain bikes and he is always eager to help NEMBA's mission and its members. He doesn't just sit behind a desk, his trail work, riding skills, and stamina are equally impressive, as anyone who has struggled to keep pace with him can well attest.
Philip has consistently and tirelessly engaged his head, his heart, and his hands for the cause of mountain bike advocacy, and the pure, honest joy of riding a bike. We hope you will agree that he is worthy candidate to join the honored members of the Mountain Bike Hall of Fame.
Submitted respectfully by NEMBA's Executive Committee:
Harold Green, President
Rob Adair, Vice President,
Tom Grimble, Secretary
Anne Shepard, Treasurer
Bill Boles, SEMASS NEMBA Treasurer.