Chuck "Bodfish" Elliot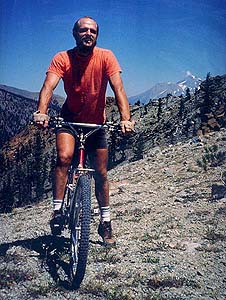 "Some fifteen years ago I embarked on an involving my personal transportation – call it my 'voluntary carlessness,' inspired by a dying Mercury and my rediscovery of the bicycle…I was motor-free for thirteen years, no spark plug troubles or rusty mufflers and I only stopped at gas stations to buy maps or use their flush toilets," Bodfish wrote in a Mountain Biking article in 1989. That same article promoted the many different routes one can take within one's own state.
Bodfish has been riding logging roads and riding to the ends of unmapped spurs in California since the early 1970s, when he "decided to be time-rich and adventure-wealthy." He has penned many of his adventures in newspapers, magazines and books, including Butte Country Bicycle Journeys, Cycling in the Shadow of Shasta, Cycling in the California Outback, and California Dream Cycling, the last of which is devoted exclusively to off-road rides. The name "Bodfish" came from a column he wrote for the Kern County Review, under the title "Hiking and Biking from Bodfish."
"Bodfishin'" has since become a term for getting away from the corporate rat race in the big city and enjoying the fresh air and dirt roads of the mountains and countryside on a bicycle.
The bicycle brought him to the northern end of the Sierra range to live, where his cabin is stuffed with outdoor sporting equipment and none of the modern conveniences of city life.
"Having made the break, I now find it difficult to understand why anyone who's having a serious affair with a bicycle willingly submits to confinement within a web of high-voltage overhead wires and barbed fences, all the while tight-roping along eroding edges of blacktop teeming with impatient motor-heads. Life is too precious to put up with all that," he writes.
He and his wife, Lisa Jo Sedlacek, run about one biking/camping tour a month from May to October for other people who want to explore California the way they have come to love it. The third member of Team Bodfish is Colby Joseph Elliot, or "Micro-fish."