AN INTRODUCTION TO THE MUSEUM
OUR MISSION
To illuminate and celebrate cycling's past, present and future.

OUR VISION
We see the bicycle, the most efficient form of human transport ever devised, growing in popularity and stature through better understanding and appreciation of its rich history and capabilities.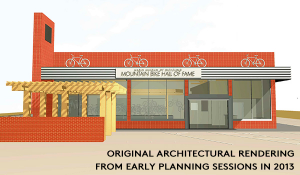 OUR STORY
The Marin Museum of Bicycling is a bicycle history museum and cultural center in Fairfax, California. We are a registered 501(c)(3) educational nonprofit, entirely volunteer-created and volunteer-run. We show the 19th century evolution of the bicycle with the magnificent Igler and Kaminski Collections, through which visitors can see the fascinating development of this extraordinary vehicle, from the 1860s to the 1890s "Golden Age" and the turn of the 20th century. The museum is also the home of the Mountain Bike Hall of Fame, which was founded in Crested Butte, Colorado in 1988. We have greatly expanded the Hall of Fame displays, to include numerous key examples in the evolution of the mountain bike. We also have a diverse selection of road, track, touring and transportation bicycles and accessory items ranging from 1915 to the 1980s, many of them part of the Matteo Collection. Our Library, available for browsing by visitors, includes the wide-ranging Owen Mulholland Collection of books, periodicals and ephemera collected over Owen's long career as a cycling journalist. Our Archives include fascinating original items from the 1880s to the present day.
The Museum was founded by a team of dedicated, lifelong bicycle advocates: Joe Breeze, Otis Guy, Marc Vendetti, Julia Violich, Keith Hastings and Lena Maria Estrella.  This team brought vast energy and experience in bicycling, design, fabrication, facilities, non-profit management, legal and retail to make it happen. You can meet our current board members here.
The Museum is located in a 4,700-square-foot facility in downtown Fairfax and had its Grand Opening on June 6, 2015. We feature bicycle-oriented events including lectures, movies, and live TV coverage of cycling events. Our smaller screening room seats up to 14, and our main hall seats up to 130 people, serving as a venue for lectures, films, private parties, meetings and more.  Be sure to check out our EVENTS page and sign up for our news and announcements emails so you don't miss a thing.
Museum and Hall of Fame memberships are available now, for individuals, families and organizations and are a great way to support our efforts and be a part of our success. Members receive free museum admission, discounts for events and many other benefits.
Other ways you can support our efforts are through your donations, by volunteering your time and talents, and through participation in our fundraising drives such as our current Mt. Tamalpais Legacy Wall campaign. More information can be found on our DONATIONS page.
We very much enjoy greeting visitors to the museum and providing tours of the collections. Often, mountain bike pioneers are available to lead tours.  Be sure to call ahead to check for docent availability and schedules and check out our PLAN YOUR VISIT page.
We look forward to seeing you soon at the Marin Museum of Bicycling and Mountain Bike Hall of Fame!