Frank Wadelton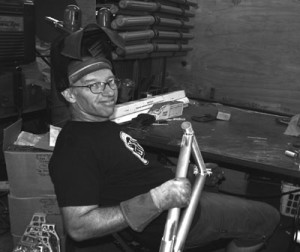 I was born in Hollywood, California. My Father worked for the motion picture industry as a machinist and I spent most of my weekends at work in his machine shop or out motorcycle riding in the Mojave Desert. I got my first bicycle as a hand-me -down from my sister. It was a Schwinn Stingray and as soon as it was in my hands it was being modified for "moto cross". I was never good at throwing or catching a ball and never really fit in with that crowd. My bicycle was the freedom machine that took me to the nearby foothills and the surrounding neighborhood. Having a welding set and a few machines made me a good friend to have in those days. Cross bars needed to be welded into handlebars, and frames needed to be repaired. I had built my first frame in the summer before 7th grade (1972) from materials gathered from 10 speed frames and shopping carts. It was a "mono-shock" suspension frame, a copy of a motorcycle prototype I had seen in a magazine.
I continued to ride throughout Junior High but before long a drivers license had replaced my bike as my most valued possession. I had begun to race motocross in '79 and was working at a contract shop welding Mongoose BMX frames. I saw a 26″ wheeled racer they were producing and just had to have one. I fitted it with taller bar and stem and used it to train in the local foothills to build endurance for Motocross.
By '83 I was married and had sold the motorcycle to buy diapers and was working as a ironworker in San Fernando, CA. A friend had purchased a Stumpjumper and soon I was blowing the dust off my Cruiser and riding again. I entered a race in the local foothills. It was a Hill-climb/Downhill and many of the early "Hot Shoes" were there. It was the first time I had heard names like Tomac, Sloup and De Angeles. I entered the downhill event (my bike was still a single speed) and ended up tying Mark Langton for the win in novice class.
The friend who had purchased the stumpjumper has Jim Herting, father of Chris Herting (Yeti/3D) and Eric (Atomic/Easton). I used to frequent the bike shop where Chris worked, and he had told me that he had purchased a T.I.G. machine and a small mill and was going to make bike frames. I offered my services as a welder and we began producing one-off frames for friends and shop customers. It was there that I built my first mountain bike frame. I used the lightest tubes I could find and drilled holes in everything I could. It was as flexy as could be and the stays were so short that I had to notch them to get the chain rings to fit.
Around 1984 or so, we had moved to what was once a Mexican watering hole in San Fernando and were building frames after work and on weekends. John Parker of Yeti had seen an ad in BMX magazine and approached us about building frames for him. After a few years we were made partners in Yeti and had moved to Durango. I was living the frame builders dream, going to the races and building frames for the biggest names in the industry. It was during these years that I worked on several projects for Shimano, Campagnolo, Onza, Barracuda and many others.
I had left Yeti by 1993 and went to work in Phoenix, AZ. I went through many changes in my life. I started a company but it seemed I would rather give frames away than sell them. I kept it up for a few years. I was building a lot of frames for Pro's who weren't willing to ride the frames their sponsors had supplied.
In 1994, I had built 100 frames for a company called "Spooky". The name sounded silly but they had a fresh attitude and the checks cleared so we stayed in touch. By '96 I had closed up shop in Arizona and headed east to check out the slippery singletrack of rural New York. I have been working at Spooky and living in the east for two years. I really liked the people I work with and the singletrack couldn't be better…people love to ride here in a big way!
Funny story: when I was working for Yeti, some of the boys from Easton had dropped off a prototype set of frame tubes. I had always loved Aluminum but Parker had mentioned several times that Yeti would never build an aluminum frame. I was really excited, but John had insisted that the tubes would not be touched. The team had left for Mammoth to attend the races and it was just me, a couple of the crew, and John's wife, Linda. I grabbed those tubes knowing full well that I would be punished. I had the frame almost done when Linda came out and saw what I was doing and called John in Mammoth. I knew I was dead. He told me to pack my stuff and hit the road! Just then, Zapata Espinoza (MBA) walked in. We knew each other well. He saw the frame and loved it! I asked him to call Parker and see what he could do. He said, "Parker you're a genius!! That's the coolest frame I have ever seen!! I need to do a review of this!" Needless to say, I was back on Johns good side and the subject was never brought up again.
Cycling to me has always been the link between one part of my life and the next. My friends are cyclists. I choose everything in my life according to its relation to a bicycle. My bike has always been a way to both ease the pain and celebrate the joy in every aspect of my life. I still go to races as often as I can. My son races BMX and my daughter raced her first downhill race on a custom 7″ travel 24″ wheeled bike. (She took second place!) I race downhill in 40+ expert, raced BMX every Wednesday evening for years, and ride my cross-country bike in festivals and local fun rides. I also sponsor some kids in BMX who can't afford bikes.
My biggest accomplishments in the cycling industry include: 1) Input in development of Easton frame tubes; 2) Made Zapata's top 100 list some years ago; 3) Fabricated first set of two fingered Shimano brake levers; 4) Welded first set of two sided clipless pedals for Don Mirah; 5) Designed A-tac stem for Answer products; 6) Designed new bar ends for Onza; 7) Co-designed all Yeti frames; 8) Pioneered "soft tail" design that is currently popular on XC bikes; 9) Pioneered use of plastic bushings in pivots; 10) First to use MMC material in frames; 11) Designed tires and grips with Yeti; 12) Built frames for John Tomac, Juli Furtado, Lisa Muhic, Tinker Juarez, Brian Lopes, Miles Rockwell, Missy Giove, Sarah Ballentine, Don Mirah, Daren & Kurt Stockton, Davis Phinny, Greg Orovits, The Evian team, Leigh Donovan, Jimmy Deaton, Russ Worley, and others who escape my memory just now. I think I have built more different bikes by hand than most anyone (aluminum, steel, Ti, MMC, and frames for DH, DS, XC, trials, track, BMX, road and even a unicycle out of wood).
I think my greatest contribution to the sport is always reminding people to have fun. I
have worked on some awesome bikes with some great athletes and designed some neat
stuff but FUN is always where it's at. I've promoted some races for St. Jude's Hospital
and some nuns came to watch us race. They really enjoyed the races and fresh air. They
commented that they had never seen so many people having fun and enjoying life.
The thing I have always loved about mountain bike racing is that the industry has
always embraced innovation and evolvement. I love to try new things technology-wise:
suspension, disc brakes or whatever. I always encourage new designers to do what they
want and always "go for it". There is no such thing as a bad idea.
My most memorable ride was with a group of about twenty riders on the Hermosa Creek
Trail north of Durango. We were several hours into the ride and it was raining and the
views were awesome. We had spread out quite a bit, and I was all by myself on a sweet
stretch of singletrack. I heard a thumping sound and thought I had flatted. I slowed a
little and noticed that I was riding in the middle of a heard of elk; I settled
into a pace with them. I could feel the warmth of their breath. They began to veer to
the left as I went to the right I could almost swear that I got a "nod of approval"
from one of the bucks. It was something that still brings tears to my eyes as I type
this now.
I have had so many wonderful cycling experiences in my life and could keep going page
after page. Right now I race Downhill, BMX, ride XC, and don't think a day has ever
gone by when I didn't at least touch a bicycle. What else can be said?
What you just read was a bio I submitted in '01 to the MBHOF . That was the year Rich Long was killed motorcycle riding near Big Bear. What a tragedy!
So much has changed since then. Can you think of a four-year period in which more has changed in the cycling industry?! Many quality bikes are made from plastics and heavy bikes are not necessarily cheap. A lot has changed in my life and career in the same four years. I got married, tried my hand at entrepreneurship again and relocated to New England to promote and develop the Sinister Bikes brand. I am still committed to focusing my creative energy on a diversified product line and the evolution of performance cycling at Sinister Bikes.
Being considered for induction into the Mountain Bike Hall of Fame is an honor which would pour juice onto my creative fires, as I have much yet to contribute. Thanks!