Donation Central
The Marin Museum of Bicycling only exists because of thousands of hours of volunteer work, in-kind donations and the financial help of supporters. Anything you contribute will be greatly appreciated and put to good and efficient use immediately.
Your donation will go towards meeting many of the expenses of the museum such as: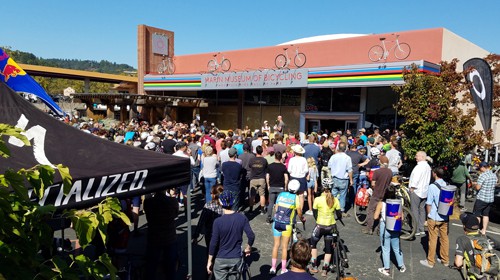 Programs and Exhibits
Overhead
Facilities maintenance
And our new expansion project!
We are a registered 501(c)(3) nonprofit organization. Tax id 46-2932150.
Your donations are tax deductible to the fullest extent of the law, and are safe, secure and private.
Make a Donation
Prefer in-person or mailing a check? No problem!
Send your check to or visit us at:
Marin Museum of Bicycling
1966 Sir Francis Drake Blvd
Fairfax, CA 94930 USA
Like to do a Wire Transfer? Call us at 415-450-8000 for instructions.
If you would like to discuss other donation options, please call Marc Vendetti at 415.450.8000 (use ext 103 if after hours)
OTHER WAYS YOU CAN DONATE:
Purchase some cool stuff from our online store or in-person at the museum gift shop- #BikeMuseGifts
Donate securities! Get a tax deduction for the value of the stock, mutual fund or annuity on the day of donation.
Donate from your IRA. Click here for more info.
Include the museum in your estate plans. Your last wishes can leave a lasting legacy. We can accept one-time gifts or endowments.
Donate a special bicycle, parts or other memorabilia.
Donate books, magazines, posters, photographs or any item of value.
Attend an event at the museum.
When you donate to Marin Museum of Bicycling and the Mountain Bike Hall of Fame, your name will never be given or sold to any other mailing list. See our Privacy Policy for details.
Questions? Contact Marc Vendetti for more information using our Contact Us page, or call the museum at 415-450-8000 extension 105.
Thank you for your support!