Gary Sjoquist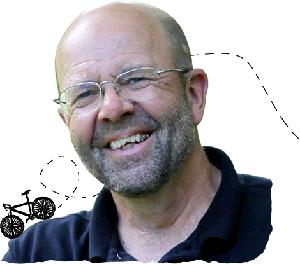 Bike advocacy isn't glamorous. But done well, it dramatically improves the bicycling experience for all of us.
Consider the 20 years of work that Gary Sjoquist of Minnesota has devoted to mountain biking, getting kids on bikes, and engaging the full power of the bike industry to increase government support for bicycling. What you'll see is two decades of impressive (and often unsung) accomplishments.
If you have every enjoyed a great bike ride in Minnesota–or just about anywhere in the upper Midwest–Gary most likely played a role in shaping that experience. His influence continues to stretch nationwide.
Like many of us, Gary and his wife Connie got their first real taste of mountain biking in Moab. This came in 1986. Four years later he traded in his racing motorcycle for a Malcolm Smith mountain bike. He started riding on a wooded trail near his suburban Minneapolis home.
A year later, Gary and Connie began racing. Right about then, local residents started pressuring the local parks department to ban mountain biking on Gary's favorite (and just about only) nearby trail.
Gary got involved. He proposed the construction of a separate mountain-bike only trail. That trail got built, received rave reviews, and featured one unusual regulation: if you got caught hiking on it, you paid a $50 fine.
In 1995 Gary gave a presentation on mountain bike trail design to state park planners. Later that same year, Gary was invited by the DNR to attend public hearings to help integrate mountain bike use in Minnesota's first "Recreation Area," a 5,000-acre abandoned mine site west of Duluth called Cuyuna. He also launched a new off-road focused event: the Twin Cities Mountain Bike Expo.
In '97, Gary coordinated "On Common Ground" for the DNR. This conference assembled nine user groups, motorized and non-motorized, to discuss trail use and cooperation.
In '98, Gary was hired by QBP (Quality Bicycle Products) as the industry's first fulltime bicycle advocate. By this time, the Minnesota Off-Road Cyclists organization, which he launched in '91, had become a respected statewide force, in part because of frequent visits and trainings involving the Subaru/IMBA Trail Care Crew.
In 2002, Gary engineered mountain biker participation in the development of a new comprehensive trails plan for Lebanon Hills. This would eventually become a widely respected signature trail that showed land managers how to properly design and maintain 12 miles of fabulous singletrack trail for mountain bikers.
In 2003, Gary became the director of the Minnesota statewide mountain bike racing series. By applying his own experience as a racer, he boosted race participation by nearly 40 percent in three years–thanks in part to new venues, easy online registration, annual promotional posters, and a printed guidebook.
In 2005, Gary approached his friend and long-time riding buddy Congressman Jim Oberstar to discuss the potential economic impacts of building a mountain bike destination in Northern Minnesota. In just a short time, Oberstar was able to secure $700,000 of federal funding for Cuyuna, and the process of developing trail plans for this area began.
In '06, Gary launched a Trips for Kids chapter in the Twin Cities. During the next three years, nearly 200 inner city kids were introduced to mountain biking.
In 2008, Gary helped host a national Trips For Kids conference at the IMBA Summit in Park City–a role he repeated at the 2010 IMBA Summit in August, GA.
In 2010, Gary became the Founding Chair for the Minnesota High School Cycling League, a NICA project. He led the successful campaign to secure nearly $1 million for the Cuyuna project—on top of the federal money– from the Minnesota state legislature
In 2011, Cuyuna's nearly 30 miles of mountain bike trails overlooking 300-foot-deep mine pools opened to rave reviews. Hans Rey declared it "one of the coolest trails I've ever ridden, anywhere." In conjunction with the opening, Gary helped teach a nearby community how to host a mountain bike festival. By the end of the summer, local businesses reported a 43% increase in business. Local restaurants started running out of food on a regular basis, and residents were heard complaining that mountain bikers were consistently taking the best parking spots outside of local bars.
Also in 2011, Gary turned his statewide mountain bike racing series into a nonprofit called Mountain Bike Minnesota. Racing proceeds were used to help start Trips for Kids chapters and provide seed funds for the new high school mountain bike racing league.
Beyond Mountain Biking: Gary's Other Top Hits
In 1999 – with a handful of industry leaders — Gary helped found Bikes Belong. He worked as Development Director for Bikes Belong during the next five years, trying to convince companies to write five-figure checks to support the new organization.
In 2000, Gary helped start the National Bike Summit with other members of Bikes Belong and the host organization League of American Bicyclists.
In 2002, Gary researched the relations and strategies of political action committees, and then launched BikesPAC–a political action committee for Bikes Belong that has become a key component of national bike advocacy.
In 2004, Gary became the Director of Government Relations for Bikes Belong. He also acted as a founder of America Bikes, the national coalition to secure federal funding for bicycle facilities.
Thanks to his friendship with Congressman Oberstar, in 2005 Gary was able to help steer $25 million of federal funding for a bicycling demonstration project in Minneapolis to a nonprofit called Transit for Livable Communities (TLC). Thanks to TLC's use of the funding to promote bicycling as well as build new facilities, bicycling increases by nearly 40% over the next several years in the Twin Cities. In 2011, Bicycling Magazine proclaimed Minneapolis the number one city for bicycling is the U.S.
In 2006, at the National Bike Summit, Gary's presentation focused on the huge need to increase both industry participation and grassroots support to influence Congress on key bicycling policy and funding decisions. This presentation became a seed for Bikes Belong's People for Bikes campaign that launched in 2010.
In 2009, Gary's work on Capitol Hill helps produce the first Republican co-sponsor of a Complete Streets national policy proposal.
In 2011, Gary helped repackage the industry's message to Congress. His "Bikes Mean Business" concept built on the steady growth and jobs creation engineered by QBP and other leading companies coast to coast. This approach resonated on Capitol Hill.
In sum, Gary's work stands as an impressive, wide-ranging list of accomplishments for bicycling in America. And of course, he's achieved so much more than what's highlighted here.
Nomination submitted by Tim Blumenthal