Steve Tilford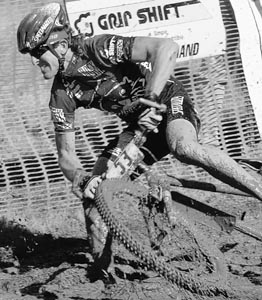 Steve began racing at the young age of 14. His passion for cycling and racing developed quickly. His hard training and natural skills caught the attention of the U.S. National Team coaching staff, and at 19, he became a permanent resident at the Olympic Training Center in Colorado Springs, CO. He represented the United States on the National Road Team, racing throughout Europe and South America.
Steve continued road racing and turned professional in 1986. He raced several seasons in Europe, and represented the United States on 4-World Championship Road Teams. His excellent bike handling skills, running ability and lanky physique lent him naturally to cyclo-cross. A pioneer in the sport, Steve captured 4-U.S. National Cyclo-Cross titles, and competed at the UCI World Cyclo-Cross Championships. Coming from such a strong road/cyclo-cross background he tried his skills at mountain biking in 1983.
The first NORBA Nationals in 1983, would also be his first mountain bike race. The race was held in the hills outside Santa Barbara, California. The day before the Championships he received his mountain bike, a custom Moots, and did a practice lap, which took over 1 1/2 hours to complete. At that rate, with a 5 lap race, Steve estimated it would be a 5-6 hour event. The climb was steep fire road and took nearly 45 minutes to get to the top. The decent was single-track. On the morning of the race, the weather was bad, it was cold and raining. Steve wore two jerseys, both for warmth and in order to have 6 pockets to pack all his stuff, including a peanut butter sandwich, numerous tools and tubes. Steve won the race, and became our first NORBA National Champion.
Steve went back to his road racing career and wouldn't return to mountain bike racing until 1990, 6 years later. Despite the constant jokes, "Where are the mountains in Kansas?" Steve excelled on the mountain bike circuit. He was 2nd at the 1996 Atlanta Olympic Trials. Steve became the "Fatboy" King (a road criterium on mountain bikes with slick tires), winning 21 Cactus Cup Fatboys over the years in the United States, Canada, France, Brazil and Japan. He won the now prestigious "Iron Otter" Award at the season opener, Sea Otter Classic. An award given to the rider with the best combined mountain bike stage race and road stage race cumulated time. It meant sometimes racing three races in one afternoon. Steve thrives on the difficult and challenging. Known for his tenacity in extreme situations, Steve excels in the toughest of conditions. His early season form is unbeatable, a fact he contributes to the unrelenting Spring winds of Eastern Kansas, his home state.
Steve captured the UCI World Mountain Bike Championships Master title, in Mont. Ste. Anne, Quebec, in 1998, becoming the first American to do so. He repeated that feat, winning the 2000 UCI World Mountain Bike Championships Master in Bromont, Canada, by 5 minutes over second place. One of only a few top road riders who successfully made the cross-over to mountain bike racing.