Mike Rust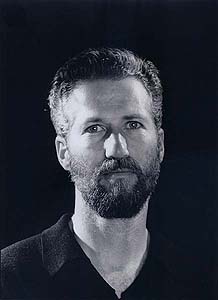 A native of Colorado Springs, Mike grew up in a large family (5 brothers and 1 sister). He began building bicycles at an early age; his first was when he was in the seventh grade. This bicycle had a cruiser frame with a sturmey-archer 3-speed, 40 hole hub laced to a 36 hole 26 x 1.75 rim, a 3-speed stick shifter and a banana seat.
In 1965, mike built a mountain bike from a stingray with 20-inch wheels, knobby tires (front & back), flat handlebars and a leather saddle, which he launched off the front porch. His next bicycle was a used French 8-speed with 2 chainrings and a 4-cog freewheel to which he added "curldown" drop bars.
Later, after a 5-year romance with motorcycles, Mike rediscovered bicycles. He became a United States Cycling Federation (USCF) licensed racer and worked in several Colorado Springs bike shops. His first version of a mountain bike brought him to Crested Butte, CO in 1980. Mike stayed in "the Butte" for the following two summers (he wasn't a fan of the cold CB winters) and worked at Bicycles, Etc. for Neil Murdoch. Mike's cycling experiences were very influential on the early Crested Butte mountain bike scene both in the technical and competitive arenas.
Mike's first Pearl Pass Tour was in 1980. He carried his own gear to Aspen, sleeping bag and all, and rode back to Crested Butte the following day over East Maroon Pass on his Littlejohn framed bicycle.
Mike then toured Arizona and worked at Bisbee Bicycles. After Bisbee he returned to Crested Butte to work on some of his innovations, which included modifying chromolly axles and seat posts for adaptation to mountain bikes.
In 1985, Mike and Don McClung started Colorado Cyclery and built their first elevated chain stay bike, the Shortie. In 1986, Colorado Cyclery moved the business to Salida, Colorado. That year Mike pursued another of his cycling loves and built his first "Ordinary" bicycle (a.k.a. Penny Farthings and High-Wheelers). Rust participated in the Ordinary World's Road Championships Museum & Parade where he rode the Ordinary in performances of the play, "Spokesong".
In 1989 he place first in Colorado State Games Mountain Bike Races. In 1990, with his five brothers, he rode Ordinaries in Dublin, Ireland for their St. Patrick's Day Parade. Mike and his brothers also rode the Colorado "Ride the Rockies" tour on their high-wheelers.
Mike was last seen in Saguache, Colorado at 7:30 p.m. on March 31, 2009. He was riding a friend's red and white Honda CRF-230 Enduro motorcycle northbound on a forest service road near his home, which is near mile post 92 on Highway 285. He called a friend on his cellular phone, angry, and said someone had burglarized his residence and he was going to track down the burglar(s), who had left tire tracks in the dirt and snow.
He was never heard from again. All indications were that Mike didn't intend to be away from home for very long; he left his phone behind and didn't take any of his off-road motorcycle gear. He also left groceries, still in their bags, on the kitchen counter, and some items within the house were out of place. An old .22 caliber revolver was missing from his house. Mike had inherited the gun from his deceased brother and he cherished it.
The Charley Project notes that in May 2009, the motorcycle Mike had been riding "was found at the bottom of a steep, rocky ravine near the Cotton Creek trailhead in the San Isabel National Forest in the Sangre de Cristo mountains, about twenty miles east of Rust's home. His blood was on the seat and the foot clutch. Authorities stated it didn't look like the bike had been in a collision; rather, it appeared as if it had been pulled or thrown 65 feet down into the ravine. No indication of Rust or his body could be found in the area.
"Investigators believe Rust was beaten and kicked to death after he confronted two men who had burglarized his home," the site maintains.
Cut to January 2016, when human remains were found near the intersection of highways 17 and 285 in Saguache County — and 7News reports that analysis has definitively linked them to Rust.
No one has been held responsible for Rust's death, but filmmaker Nathan Ward is doing his best to make sure he isn't forgotten. He's created a documentary about Rust titled The Rider and the Wolf that screened at the 2015 Denver Film Festival. Check the Grit and Thistle website for more information on the film.
We offer our sincere condolences to those who loved and admired Mike Rust.
Update 6/21/16
The Colorado Bureau of Investigation has announced that an arrest warrant has been issued in the case for Charles Moises Gonzales — and serving it was undoubtedly easy, since he's currently in jail in Cañon City.
Charles Gonzales busted in murder of Mike Rust
Update 12/7/16
SAGUACHE, Colo. (CBS4) – A judge has ruled that there is cause to try the 46-year-old man accused of the murder of mountain biking pioneer Mike Rust.
Mountain biking murder case heads to trial
Update 12/8/17
SAGUACHE, Colo. Killer of mountain biking pioneer Mike Rust sentenced to life in prison.
Charles Moises Gonzales, 47, has been convicted on four counts of murder and sentenced to life in prison without the possibility of parole. Finally, the mystery has been solved.