Greg Herbold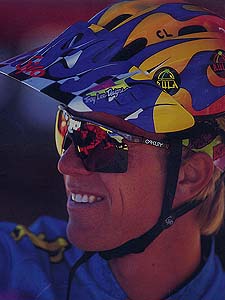 Greg Herbold is the Will Rodgers of mountain biking. He always maintains his witty sense of humor, is colorful and ready to give encouragement or assistance to anyone in need.
Greg also has an impressive racing history. He won the first UCI World Downhill Championship in Durango, Colorado in 1990; three-time NORBA National Downhill Champ in 1988,1989 & 1993; winner of the first Dual Slalom Race at Mammoth Mountain in 1987; North American Downhill Champ in 1991 as well as 25 other victories in his 10 year racing career.
Due to his impressive racing talents, Greg was used as a test rider for many manufacturers of state-of-the-art mountain biking products. Shimano enlisted him from 1988 to 1991 as their head test rider. Greg also worked with Rockshox, Answer/Manitou, Gripshift, Ringle and Giro Helmets.
Greg has been in the limelight of media exposure. Starting in 1992, Greg began appearing in videos, commercials, sports segments and finally the full-length movie "Tread". During that time, Mr. Herbold could also be found in every major mountain bike publication around the world.
Greg even has his very own fan club, Club H-Ball. Now that's saying something!