Travis Brown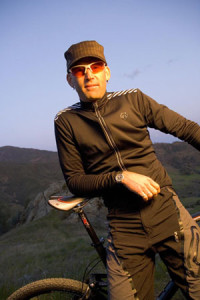 Although the term, "keeping it real" is about as overused as the most beat down Madison Avenue ad hype, it's nonetheless a phrase that accurately reflects the life and times of Travis Brown. Born and raised in Durango, Colorado, an early-on epicenter of mountain bike competition, Travis has dedicated the last 15 years of his life to professional cycling. An up and coming Expert rider in the late 80's, Travis burst on the Pro scene with a tenth place finish at the inaugural World Championships held in Durango in 1990. That ride, along with his charismatic personality, earned him his first factory ride with Manitou Bicycles.
In 1993, Travis was picked to join the Trek/Volkswagen team and that is where he has remained ever since. Besides his racing accomplishments, Travis' technical skills have played an important role at Trek by helping to develop many of the parts and bikes that have found their way to the production line.
Over the last decade, no other rider has proven more emblematic of the broad universe of off-road cycling than Travis. From being selected to represent the United States in the 2000 Olympics to receiving his winner's tattoo at the Single Speed World Championships, Travis has dedicated himself to cycling in almost every arena. Besides his two single speed World Championship titles, numerous road races, and five Colorado state cyclocross championships, Travis has also been selected to represent America at the UCI world championships on ten occasions. In 1999, Travis achieved his long held personal goal of claiming the NORBA National XC title.
Besides his passion for racing, Travis has always been an active proponent for cycling advocacy. "Access to great trails isn't only crucial to my training as a professional athlete but also to my quality of life through recreation for myself and my family. I feel a lot of gratitude to IMBA, BOA, and Trails 2000 for protecting the trails that have given such profound enjoyment to my life".
For the entirety of his career, Travis has set himself apart from most other elite athletes by exhibiting a unique sense of style, enthusiasm and approachability – his handsome smile is always as visible as his dangly earrings. After all these years of competition, Travis decided that the 2004 season would be his last as a full-time racer. Now a husband and father, "T-Brown" decided that it's finally time to consider other activities in life. Although when asked if he was done racing bicycles, Travis predictably responded, "I'll never really be done!"
Travis Brown, keeping it real as a worthy inductee to the Mountain Bike Hall of Fame