Giovanna Bonazzi
When Giovanna Bonazzi traveled to the US in 1992 to compete in World Cup mountain bike events, she was already a role model for Italian women. In the early 1990s mountain biking was still very much centered on US brands, teams and athletes. By 1992 Europe was building a strong mountain bike racing foundation, but Italy was behind other top cycling countries, and the scenes on the two continents had not been melded. Giovanna's international presence helped to join Europe and American mountain bike competition into one, unified sport. Her participation, example and encouragement captured the imaginations of other women and led them in their own aspirations to get into DH racing as international professionals.
Giovanna made a strong entry on the US scene as a downhill racer. She presented herself as a DH racer in the way she dressed, acted and of course, rode her bike. At the time, there may have been only five female DH racers who looked like DH racers, charging on course and carrying themselves on and off the track in a manner that inspired fans and participants. Giovanna also brought "real" DH bikes across the Atlantic. Her bikes looked futuristic and strange in comparison to the modified XC looking bikes that most of the downhillers were racing at the time.
The greatest gift that Giovanna and a handful of other talented and driven women pros gave to the sport at this time still rings across all political boundaries. The strength of women's pro downhill racing is a testament to our sport. Women like Giovanna pushed hard and sharpened their skills beyond what was expected of their gender, and established professional female DH racing as an accepted and popular venue internationally. Compare the success of women in professional road racing in Europe and you may understand how futile her cause might have been had she not chosen to export her talent and inspiration to the US. In so doing, she helped solidify women's professional racing in Europe.
In early 1990s Italy, women's mountain bike racing was considered a minor activity. It wasn't publicized and sponsorship were not available. Giovanna Bonazzi made her way alone, building up the support of friends and sponsors. With her persistent efforts, she overcame the indifference of the Italian media, which has always preferred football, and improved publicity for and support of mountain biking. Over the years she has kept up contacts via fax, letter, email, phone calls, and miles traveled, to maintain continuous relationships with sponsors, factories, teams and individual cyclists. Giovanna has become an authority on Italian MTB history: results, performances, and the evolution of the bikes.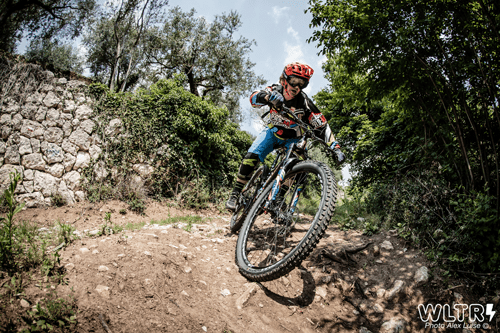 Giovanna Bonazzi begun to ride a bike very young. At the age of 5 she was already wearing out her bike tires. Her dad, instead of changing the tires, doubled up her tires. She secretly borrowed her brother's Saltafoss bike to practice jumps. At 14 years old she and friends went on long road bike tours around Italy. She became champion of her province in Alpine skiing, but was focused on studies. In 1988 she finished her studies in Physical Education and rode a mountain bike for the first time, riding the Stelvio Pass to Bormio. It was love at first ride. Later that year she won the first Italian women's championship in MTB cross country.
As a racer she at first specialized in cross country, then added downhill. She collected 7 Italian titles in cross country and time trial and a 3rd place at the European Championships. In 1994 she devoted herself to Downhill. She won two Downhill world championships (1991 and 1993) and in 1992 the DH at the Grundig Super Cup (which preceded the World Cup). In 1993 and 1995 she came in second in the DH World Cup overall. She won the 1995 Reebok eliminator winner at Mammoth mountain. She won three European DH titles in the 1990's, and 12 Italian DH titles including specialties such as dual slalom.
Giovanna began her racing career on Princycle bikes made by her brother Princy, an artisan in Verona. She remained loyal to the small builder for years, allowing her to experiment with handcrafted bikes, parts and innovations. Staying affiliated with the small companies of Verona she later raced for the brand Kastle, and then Benetton.
Giovanna's exuberant personality has brought enormous attention to the sport of mountain biking in Italy, with appearances on general-interest television shows, in fashion magazines and general media.
In 1995 she became the first woman in the world to engage in a speed record with a mountain bike on snow, reaching 142 km/h, with a faired, glass and carbon fiber bike that she had helped design. Her 1995 on the snow Speed record was 142 km/h, and in 1996 she bested that record, at 158 km/h. These well publicized feat helped open minds about new mountain biking opportunities.
Giovanna retired from racing in 1999 and remained active in promoting mountain biking and improving skills for kids and adults. In 1998 she created a DH instructional course for women in Italy, and offered it at no charge to 20 participants, helping supply bikes and gear for the duration of the course. This was a first in Italy. This model inspired repeats in later years, by Giovanna and others, helping many girls enter the sport and improve their skills in DH and other MTB categories.
Since 2000 Giovanna has raised a son, Eddie, and with her husband has become a well appreciated European ice cream producer, with a workshop and shop in Verona. Recently she is also riding E-Bikes, with a successful, competitive E-Bike Enduro team. In 2016 Giovanna decided to enter the UCI 's 2016 DH Master World Championships at Val Di Sole. She won her class (ages 50 – 55). "To go back in your 50s," she said, "after 17 years of inactivity on a route like the Val di Sole, the toughest of the circuit, you really have to be a bit crazy."
Written by Remo Campagnola and Giovanna Bonazzi