Monte Ward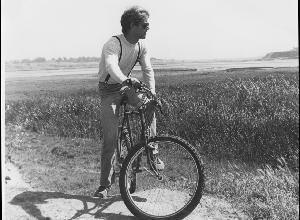 Monte Ward is a former road rider who also ran a bike shop in Costa Mesa, California, Monte began off-road exploration in the 1970's, and rode in the early 1980's with many of the original Marin gang, including Joe Breeze, Wende Cragg, Charlie Kelly, and Gary Fisher. He rode and won the first Central Coast Clunker Classic, Reseda-to-the-Sea, and many other of the sport's earliest semi-organized events. He was at several of the first Pearl Pass/Crested Butte fat tire rides. He and Charlie Kelly once arranged a combined Northern/Southern California group trip there in an old hippie-driven charter bus that was quite an adventure in itself. "Mountain biking had a counter-culture feeling in those days," says Monte.
Monte had an early bike by Tom Ritchey, undoubtedly the very first one outside the Marin/Northern California area. A true fat tire pioneer, he was discreetly riding in wilderness, park, and ranch areas during a time when virtually no one else was. However, he was among the first to anticipate inevitable user conflicts as mountain bikes began to gain popularity.Trained in public policy, he offered valuable behind-the-scenes counsel to Glen O'Dell as Glen worked to redefine NORBA, and he was instrumental in setting up a group called SHARE in Orange County that helped ensure access for cyclists at State Parks and other places. SHARE became a model for bike advocacy groups, preempting problems through education, political activism, and cooperative trail maintenance projects.
Monte was known and respected for his knowledge of bikes and the places to ride them, his talent as a rider, and his sound instincts about crafting a positive image for the sport. Many classic photos and news articles attest to his role during this period, but Monte always believed that the true spirit of mountain biking was in the early fat tire days, not the big high-tech industry he saw coming. For Monte, mountain biking was more than a sport, a fad, or a business; it has been a fundamental part of his life for more than thirty years, a way of knowing and appreciating the backcountry, and the foundation for many enduring friendships. Today at 61, he rides quietly (and somewhat more slowly) in the coastal hills of Santa Barbara County where he makes his home.