Brian Skinner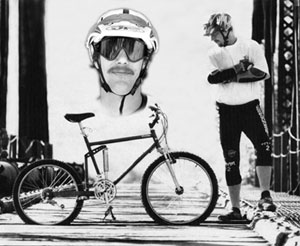 In 2000, Brian Skinner was named the 13th most significant person in Mountain Bike history by Mountain Bike magazine. His involvement in shaping the sport, developing product and promoting racing and fun are all factors that garnered him that honor.
Brian made the transition from BMX to mountain bikes when introduced to Victor Vincent's first classic Reseda-To-The-Sea race in 1980, and never looked back.
The first thing he did was to start his own product and race promotions company – Mountain Cross Racing. While working on developing the first six-inch travel, nitrogen-charged downhill bike, he promoted downhill and cross-country races throughout Southern California that groomed the careers of legends including John Tomac, Cindy Whitehead, Joe Sloop and more.
This quickly caught the eye of other companies wanting to promote Mountain Biking, and he was called on to help set the original guidelines for the
creation of NORBA. Brian also helped create the Suntour Series of races and the Gant Challenge in 1984. Brian was also the first to really work on cross-promoting mountain biking, by having races at half-time events at the SuperBowl of MotoCross in the LA Coliseum, and at the World 500cc MotoCross Championships in Carlsbad California, aka "The Shimano Grand Prix" exposing this new sport to hundreds of thousands of people.
Within time he was working for Shimano and other companies, helping define the future of mountain bike product. While at Shimano, Brian was on the front end of developing revolutionary concepts such as Shimano Indexed Shifting, SPD, RapidFire, and many other products.
After his work at Shimano, Brian helped Answer Products break into the MTB market with light handlebars and stems. He then went on to work for Onza, helping to introduce titanium bar-ends into the market, and work closely with David Ajiki an owner of Onza in redefining the MTB tire market. The three worked together on offering tire color schemes on a tip from John Parker–founder of Yeti Cycles that were unheard of at the time.
Most recently, Brian has created a new company – Big Horse Productions, that provides support for amateur racers at the major events with his "Privateer Lounge," a place where regular racers can go and get treated like a pro. He promotes several companies at the lounge, including Maverick, SunRace Components, Kenda Tires and others. While raffling away product from his sponsors, he also provides a bar-b-que for the amateur racers as his way of giving back to the people that support the sport of mountain biking.
Submitted by Steve Boehmke