Ashley Korenblat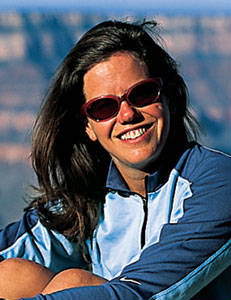 Ashley's long and active involvement in mountain biking began in 1989 when she became the president of Merlin Metalworks. Since then she has been involved in almost every aspect of mountain biking, including industry, racing, touring, and advocacy.
While at Merlin, Ashley raised the initial capital which allowed the company to custom order titanium tubing to Merlin's specifications. Up until this time the only titanium tubing available was made to Boeing's specs. This improvement led Merlin to develop several of the most sought after bike frames for both mountain biking and road cycling. At the same time Ashley used forward thinking management practices to create self directed work teams who operated through a flex-time system. Merlin frames were honored in Business Week magazine as an American product which exceeds world-wide quality standards.
During her time at Merlin, Ashley began racing. She quickly progressed to the expert class, traveling to races throughout New England and participating in several NORBA Nationals. She got involved in race promotion when Merlin began hosting races as part of the New England Points Series. Ashley negotiated a variety of professional sponsorship partnerships which included John Tomac in conjunction with Mongoose, Greg LeMond with Greg LeMond Bicyles, and Lance Armstrong as part of the Subaru Montgomery Cycling Team. A personal highpoint in her own racing career was winning the dual slalom at the Norba Finals in Mt Snow Vermont in 1989, with Missy Giove finishing in second.
Meanwhile, the threat of trail closures in the Boston area led to Ashley's involvement with the recently founded New England Mountain Bike Association, NEMBA. Increasing interest in mountain biking meant that NEMBA's membership was growing quickly. But how could this interest and energy be harnessed to keep the trails open? The mountain bike community had to prove to land managers in New England that allowing mountain biking on their trails would be more beneficial than harmful. Ashley attended countless public hearings and hiking club meetings. She helped organize volunteers for everything from NEMBA's administrative work to trail maintenance. She used her position at Merlin to raise funds to hire a professional trail crew to work in one of Boston's parks. This was one of the first examples of a public/private partnership that kept the trails open.
In 1990 Ashley joined the IMBA Board of Directors. At that time IMBA was an entirely volunteer organization. Ashley quickly realized that a professional Executive Director was needed. Working with Linda DuPreist of Specialized, Ashley raised over $60,000 from the bicycle industry which allowed IMBA to hire Tim Blumenthal. Ashley served as IMBA's President from 1996-2000. IMBA's current budget will be roughly $1.8 million in 2003. Through its various trail programs, IMBA will work on over 75 trail systems this year, while providing critical services to its 450 member clubs around the world.
IMBA is the national voice of mountain biking in Washington DC, not only with regard to this year's important Transportation Bill, but also in ongoing negotiations with federal land managers such as the BLM, the USFS, and the Army Corps of Engineers. During the 1992 presidential campaign, Ashley organized a bike ride for then Governor Clinton and Congressman Joe Kennedy to promote the Bike Bill. She followed up with many visits to D.C. during Clinton's term to promote biking in the newly created National Monuments. In 1997 Ashley was named one of the most important women in mountain biking by BIKE Magazine.
Recently Ashley raised funds from local businesses to form the Moab Trails Alliance. By bringing all of IMBA's knowledge and experience to Moab, the Moab Trails Alliance will be able to greatly enhance the already world class Moab trails. MTA will be working with local land managers to connect and build new singletrack trails throughout the Moab area.
Ashley currently owns Western Spirit Cycling with her husband Mark Sevenoff. Western Spirit takes people on multi-day mountain bike trips in the National Forests and National Parks from New Hampshire to Tucson and from North Carolina to Oregon. Western Spirit has trips for those just getting started in the sport, such as the Grand Staircase (which Ashley's mother-in-law did for her 70th birthday) and trips for those with lots of experience, such as the Sun Valley Singletrack or the Colorado Trail, with five days of singletrack above 10,000 feet. Western Spirit has taken thousands of people into the backcountry, and each one returns with a renewed commitment to the sport of mountain biking.
Nominated by Rob Vandermark, Seven Cycles