Tinker Juarez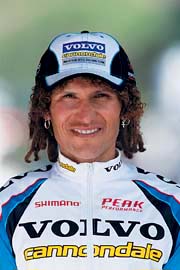 Tinker Juarez, as you undoubtedly know, is one of mountain bike racing's most enduring icons. With his trademark dreadlocks, Tinker is also one the sports most recognizable figures.
Tinker, who turned 40 earlier this year, is now in the 15th season of an amazingly fruitful mountain bike racing career. He is a three-time U.S. National Champion, a two-time U.S. Olympian, a Pan Am Games Gold Medalist, and a World Championships Silver Medalist.
Equally important, Tinker has been a wonderful ambassador to the sport for 15 years unmarred by either incident or controversy. Somewhat reserved by nature, Tinker will nonetheless always take time out to chat with fans or sign autographs. As a result, Tinker is still among the most popular competitors in mountain bike racing today. One only needs to hear the roar from the crowd when he's called up to the starting line, or hear the cheers for Tinker from fans along the course, to understand how popular a figure he still is.
On a larger scale, Tinker is also emblematic of the positive effect that mountain biking can have. After growing up poor in inner-city Los Angeles, Tinker used BMX and then mountain bike racing as his means of escape. Today, Tinker is an accomplished, successful athlete who has traveled the world, figuratively and literally, on his mountain bike.
Tinker is nearing the twilight of his racing career. I think it's safe to say that he will somehow remain involved in mountain biking, even as he relinquishes the spotlight that racing provides. How fitting it would be to honor Tinker now while his accomplishments are still well known, his contributions to the sport still appreciated, and his popularity still undiminished.
I do hope that you will look favorably upon this request, and provide Tinker with the honor he so richly deserves. Please don't hesitate to contact me if you have any questions.
BIO
Tinker Juarez (USA)
DOB: March 4, 1961
Home Town: Downey, CA
Discipline: Cross-Country
Height: 5'8″ Weight: 140 lb.
Began Racing Mountain Bikes: 1986
Competitive Background: BMX
HOBBIES: His Volvo 850 Turbo, motorcycle riding
FAVORITE RACE: Big Bear, CA
CAREER HIGHLIGHTS
o 3-Time NORBA National Cross-Country Champion ('98, '95, '94)
o Two-Time US Olympic Team Member ('96, '00)
o 2000 NORBA Cross-Country, Mt. Snow – fifth place
o 2000 NORBA Cross-Country, Mammoth and Crystal Mountain – seventh place
o 2000 World Cup Cross-Country, Mazatlan – tenth place
o 1999 NORBA Short Track Overall – fifth place
o 1999 NORBA Cross-Country Overall – ninth place
o 1998 NCA Cross-Country Finals – first place
o 1998 NCS Cross-Country; Red Wing – second place
o 1998 Tour of the Rockies, Overall – third place
o 1995 Pan American Games – Gold Medal
o 1994 World Cross-Country Championships – Silver Medal
Bio Submitted by Tom Armstrong Cannondale Bicycles