Horst Leitner
Horst began working on the problem of chain torque and its effect on suspension in the mid-1970s, with motorcycles. In 1985 Leitner built a prototype mountain bike incorporating what became known as the "Horst Link," a type of four-bar linkage suspension. It uses a dropout fixed to the seatstay and a rear swingarm pivot below and forward of the rear axle, resulting in the uncoupling of braking and chain tension from the rear suspension. Leitner formed a company, AMP Research, that began building full-suspension mountain bikes with the Horst Link fully-independent linkage rear suspension. The Horst Link was licensed by Rocky Mountain Bicycles, Turner, Mongoose and Titus Bikes, and copied by many others. Specialized later purchased the patent and used the Horst Link as the cornerstone of all of their dual-suspension bikes.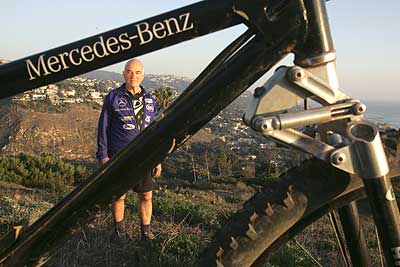 The introduction of the Horst Link served notice to every mountain bike designer that slapping a spring or elastomer bumper on a bike and calling it suspension would no longer cut it. The Horst Link forced other designers to come up with suspension that really worked.
While not cited as often, Leitner's disc brakes had a sea change effect on mountain bike stopping power, just as the Horst Link had on suspension for negotiating bumpy trails. His compact, lightweight and powerful brakes challenged all brake companies to improve their offerings or risk extinction.
Today we all ride better mountain bikes —whatever their brands or systems— because of the innovations that Horst Leitner introduced to our sport.