Keizo Shimano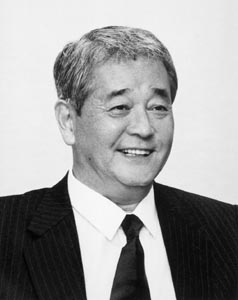 Every shift, each pedal stroke, every dusty smiling face at the run out of a descent on a mountain bike is a tribute to Keizo Shimano. A man whose brilliance questioned the status quo at every step. He studied ceaselessly, motivated his colleagues, and listened to the world's greatest riders, all the while pioneering the development of the bicycle component technology so widely used today.
Growing up in Japan as the middle child of a large family, it is easy to see where Keizo derived such a strong competitive desire, always challenging what others said could not be achieved. He was talented athletically as well. Just one step away from a professional baseball career before his father convinced him to go to school and then work in the family business. With a degree in mechanical engineering earned in 1955 he set out to develop the world's finest bicycle components for Shimano Industrial Company, his father's legacy.
Keizo worked diligently and was named Executive Vice President beginning in 1970. Through the following decade he oversaw the development of new road components eventually leading to the creation of Dura-Ace. In order to test these new components, Keizo formed the Shimano Cycle Racing team as his very own Skunk Development Team. Keizo believed in the input of racers, not because of their star status, but because of their athletic abilities, personal determination and frank input. His years as a high level athlete himself served him well here.
As the 1980's dawned, Keizo received word from the United States office, headed by his younger brother Yoshizo, that a new trend called mountain biking was going to require a different direction in component design. Many traditionalists scoffed at the notion of this new category but Keizo's vision told otherwise. The creation of the Deore series began a period of unparalleled development for mountain bike componentry.
He worked closely with engineers and great riders like Tom Ritchey and Gary Fisher. He led them into the great unknown, always at the front, always confident. He roamed the building asking questions rather than reading reports, motivating in a way so few leaders can. He would not accept no as an answer, he couldn't. He had placed the future of Shimano in the hands of mountain bikers. He knew his people and his company had a yes in them. His drive was to help them prove what they had set out to do.
From this period came the first full system mountain bike component group, Shimano Deore XT, in 1982. In rapid succession came developments like SIS, (Shimano Index System), Hyperglide, STI shifters, (Shimano Total Integration), and SPD, (Shimano Pedaling Dynamics), all under his direction and guidance. Racers like Joe Murray helped refine systems even further. Keizo and Joe helped Shimano bring index shifting to the off road cycling world with Deore XT in 1986.
His commitment to his craft is best expressed through his SPD efforts. From the onset of SPD development, Keizo's goal was to make cycling shoes that you could truly walk on. He wore the prototypes everywhere to study them and improve them. When the SH-M100 shoe was released in 1990, he wore them to prove their walkability. He even wore them to important meetings with his suit and tie!
Shifting gears and playing golf never seemed to have a connection until Keizo put the two together. Golfers always had a certain club for a particular shot or situation. Why then, shouldn't bicycle racers have the same options? By adding more gears to a drivetrain, Shimano could offer riders the ability to specify the proper gear needed at the time. Mountain bikers had the ability to climb the big climbs, hammer the descents, and motor through the flats thanks to the added clubs Keizo had placed in their bag. Athletic performance, personal triumph, and spirited determination should never be limited by the mechanics of the machine.
Keizo believed in his work. He rode a bike to work every day and then home again. His desk was home to every type of bike imaginable. When he chose to test a certain component, he was ready in a flash. Co-workers remember riding alongside him during the commuter hours never knowing what could appear under him next. If it was happening on a bike, he knew about it firsthand.
Certainly no one will be inducted into the Mountain Bike Hall of Fame from this day forward who has not had an experience with Keizo's work. An industry, a machine, and an experience have all benefited from his genius. It is a genius so well suited to a mountain biking and the Hall of Fame. Gregarious, competitive, and adventuresome, driven with a lance tilted at the limits of the establishment. Who else would want to crash a car to see if, and how, the airbag would work than a mountain bike spirit? Keizo traveled to Italy when Andy Hampsten won the Giro d'Italia on Shimano components. One can only imagine his pride for mountain bike racers victorious on today's global stage.
Bio submitted by Chris Distifano