Leigh Donovan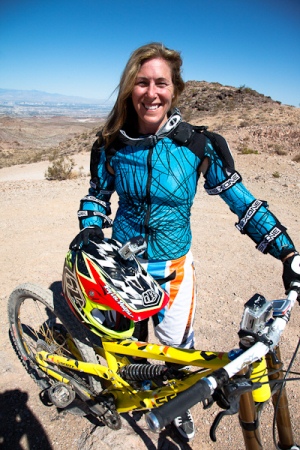 Web Site: www.ichoosebikes.com
Leigh began racing BMX as a child at the Orange Y BMX track, in Southern California. After winning multiple national championships and a world title, Leigh stepped away from BMX after a knee injury but her racing history in BMX earned her a spot in the BMX Hall of Fame in 2013. Leigh was away from racing for a few years while she went off to school. When Leigh was 20 years old, she was given a mountain bike by the guys at Haro bikes (Dean Bradley and Brad Lusky) who had heard what an amazing rider she was in BMX. They had been told she could probably do some damage in the new sport of mountain bike racing. Leigh's first mountain bike race was at Mammoth in 1992 where she beat out the sport's most popular rider at the time, Missy Giove, in the dual slalom. Leigh's MTB career took off from there and she was signed immediately to the #1 gravity team in the world, Team IronHorse. Leigh began winning races from that point on. But it wasn't until 1995 when she joined childhood friend (and MTB Hall of Famer) Brian Lopes on the Mongoose team that things started to go to the moon.
In 1995 Leigh won the triple crown, winning the national slalom championship, national downhill championship and the world championship–an accomplishment that has never been repeated to this day. Leigh also became one of only two American women to win the UCI Downhill World Championship, the other rider being Missy Giove. The most decorated female gravity rider of all time, Anne Caroline Chausson was only ever beaten three times in her career, and one of the times it was Leigh Donovan who beat her. Chausson has often said that Leigh was always her favorite competitor. She respected not only Leigh's talent on a bike, but her attitude with people inside and outside the race circuit as well.
During her career, Leigh won nine U.S. National Championships. She won the 1995 World Championship and the 2001 World Cup Dual championship. More importantly, Leigh was not just known as the person to beat, but she was known for her outgoing personality and for her eagerness to help not only her competitors, but amateur riders as well. She became a tremendous force in the industry for product development. Her flair with the media had her helping give mountain biking a reach outside of the cycling world into the mainstream. Leigh worked with many charities during her race career and donated much of her time to simply helping others, on and off the bike. Leigh also served as an athlete representative to the UCI and USA Cycling in an effort to improve the sport on a global level. Leigh was also the only female to ever win the Richard Long sportsmanship award given by NORBA.
Leigh retired after the 2001 World Championships in Vail, Colorado, where she raced to a bronze medal. She said goodbye to racing and went on to open a successful designer clothing boutique, which she ran for the next 10 years. She made a few appearances at bicycle events throughout the years, even winning the overall gravity title at Sea Otter in 2003. Leigh also became a mother in 2005, having a daughter with her husband Craig who she has been with since 1995.
In 2010, Leigh  heard that the MTB World Championships would be held in Mt St Anne, Canada–her favorite racecourse. She decided she would  make it her goal to race that event. She would need to make the U.S. elite women's team, at 39 years old! Leigh raced five events in 2010 and made the podium on each (while running her own business and being a mom), thus qualifying for the U.S. National Team. Leigh was 8th place at the elite MTB World Downhill Championship, the top-placing American rider. Leigh is probably finished with big-time, world-class pro racing, but she has now shifted her focus onto her new business, ICHOOSEBIKES, where she focuses on women's MTB events, coaching, clinics, and being an ambassador for women in the sport of mountain biking.
Leigh Donovan is one of the founding members of an iconic group of women in mountain biking that changed the scope for the sport in general. For women all over the world, she truly deserves her seat in the MTBHOF, and represents that spot with pride and honor.
Signed,
An adoring fan–her biased husband and race mechanic during her entire race career, Craig "Stikman" Glaspell