Chris King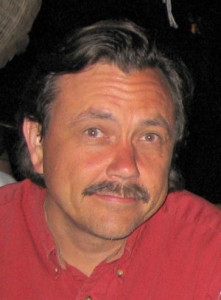 In the summer of 1976, Chris King created his first sealed bearing headset in a Santa Barbara, California garage. Aluminum scraps and discarded medical instrument bearings were used for those first pieces, showing the manufacturing and social ethics that underpin his company today. Chris would soon leave a promising future in the field of medical instrument prototyping to form King Cycle Group and make headsets. He was just 20 years old.
In the years that followed, word of mouth traveled quickly and demand was soon greater than supply. Road cyclists had been the hub of Chris King's customer base and they would be the first to see his headset as the solution to the harsh demands of off road riding. Transferring their headsets to new mountain bike frames was common for the times and would soon prove the merits of Chris' work.
What would have become of mountain biking if serial replacement of structural components was necessary? Would mountain bikes be as appealing today if, like golf, an additional equipment cost was associated with nearly each use? How could fragile equipment support self-reliance, adventure, and independence as principal ethics of mountain biking? Further, what could Chris King add to the advancement of the mountain bike movement?
An excerpt from a 1996 Chris King catalog reveals the answers to these questions in Chris' own words – "It seems as though 'good enough' has become the standard. There are many reasons substandard quality components are not good enough; here are a few of mine. Like most people, I have limited time to work on my bike and I don't like hassles, so the parts we design need to be easy to service. I certainly don't like to get stuck out in the middle of nowhere so they also need to be reliable and durable. And, since we are in the business of making high-tech parts, we simply have to make them light."
Chris has gone on to offer 16 styles of headsets in just about every color imaginable. Hub sets became available in the mid-90s featuring the distinctive sound of the patented Ring Drive engagement system and remain as one of the most desirable aftermarket components available. For a lucky few, Chris' work as a frame builder in the early 1980s yielded Cielo mountain bike framesets. Today, a Cielo mountain bike is an important example from the early mountain bike era for any serious vintage collector.
Yet while any of these products can define the craftsmanship and mechanical excellence of the man and his company, it has been the social conscience behind the production that has earned Chris his right in the Hall. Chris was an early leader in trail advocacy with his King Trail Daze weekends. He has been an advocate for cancer research in support of the Lance Armstrong Foundation and the Susan G. Komen Breast Cancer Foundation. His position on domestic manufacturing and sustainability is renowned. He is often seen making pancakes at bike events and company meetings with each plate served in the precise manner that his machines create components. Further, he is willing to share his knowledge on any of these subjects. Especially the pancakes.
Chris King has been influential in mountain biking for thirty years. His components sold today could easily last and inspire his vision for another thirty but it is likely that the core values of his company will affect the greatest change in the years to come. With great pleasure he is inducted into the Mountain Bike Hall of Fame.
Nomination/Bio Submitted
by Chris King Staff