Elaine & Maurice Tierney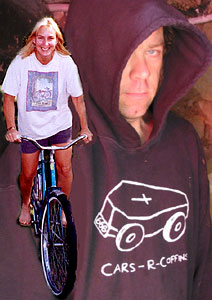 Elaine and Maurice Tierney founded Dirt Rag in 1989 to promote and document mountain bike culture, following in the footsteps of Charlie Kelly's Fat Tire Flyer. Issue #1 was a 16 page black and white 'zine, folded in the center and passed around to friends and at events. Ninety-something issues later, the 'zine is distributed world wide to the hardest of hardcore mountain bikers. Yet despite this growth, the mag has kept its grassroots,homey feel and remains a true forum for sharing the passion of mountain biking. Readers love all aspects of the mag –right down to the typos-because it was so easy to relate to the magazine. Quite simply, Elaine and Maurice created a magazine by and for mountain bikers.
In many ways the magazine has been synonymous with Maurice Tierney and Elaine Tierney. Dirt Rag was their baby, and they lived, breathed and dedicated their lives to it. For years, the 'zine operated out of their house, and the magazine was more than a business-it was a way of life. Elaine and Maurice both fueled and were fueled by the mountain bike scene.
They created a real connection with their readers because, like their readers, Elaine and Maurice were (and are) grounded and genuine. Dirt Rag continues to be a privately owned and produced magazine, unfettered from the corporate world of publishing. In an age of journalistic fluff, Maurice and Elaine made sure that the 'zine remained true to the essence of mountain biking-independence, creativity, freethinking and passion.
Though Maurice and Elaine have taken different paths, the 'zine continues to keep spread the mountain bike faith. Their nomination (and hopefully induction) to the Mountain Bike Hall of Fame is most deserved, if not for anything else, for keeping mountain bike culture grassroots and true to itself.
From Elaine
"I just got back from an awesome ride and I had to write you about it." Do you know how much fun it was to get a letter that begins like this? We got letters like this every day at Dirt Rag, sometimes a few a day. We'd get scraps of paper with doodles on them. Napkins with trails maps. If you knew how many articles I've read entitled "My First Race." But that's what it's all about. Any sport that can inspire someone enough to write or draw or paint or scribble and want to share it with others is a beautiful thing.
Mountain biking is such a sport. That's why we all ride. All Dirt Rag did was give everyone and anyone a chance to express themselves.
I would personally like to thank everyone who contributed pieces to Dirt Rag because I had a great time reading each and every one. It was an awesome ride and I had to write you about it. Elaine Tierney