MOUNTAIN BIKING HISTORY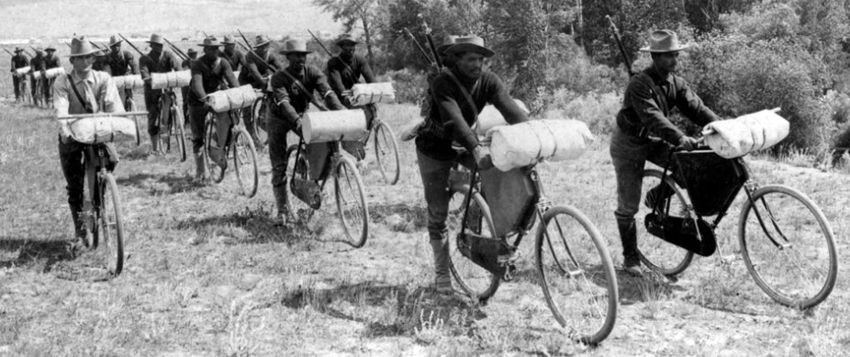 There's a lot of history, information and mis-information floating around about the origins of mountain biking—some that's well researched and some that depends on who had the best public relations firm—and the biggest printing press!
Mountain biking has existed in one form or another since the dawn of cycling. Few roads were paved in the 19th century, so most early cyclists rode on dirt roads or trails. Some examples of early off-road riding stand out. One is the 25th Infantry Bicycle Corps, a regiment of riders who customized bicycles to carry gear over rough terrain. In August 1896, the riders, black enlisted men and a white lieutenant, rode from Missoula, Montana, to Yellowstone National Park and back—an arduous trip to be sure! Their mission: to test the bicycle for military use in mountainous terrain. The following year they rode still farther, from Missoula to St Louis.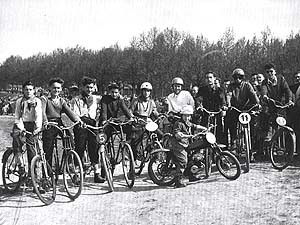 Another fascinating example is the Velo Cross Club Parisien (VCCP), comprised of about 20 young bicyclists from the outskirts of Paris. Their riding between 1951 and 1956 was remarkably akin to present-day mountain biking. These riders juiced up their French 650-B bikes with an extraordinary degree of technical sophistication.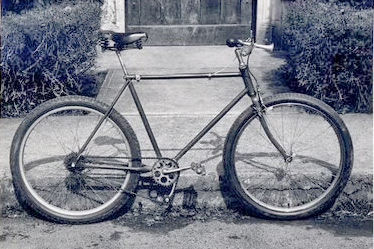 History has seen many other isolated occurrences of off-road riding, and people who modified existing bikes for off-road use. Many are barely remembered. One of the best known is John Finley Scott, an off-road cycling enthusiast in the United States. In 1953 he assembled what he called a "Woodsie Bike," using a Schwinn World diamond frame, balloon tires, flat handlebars, and derailleur gears.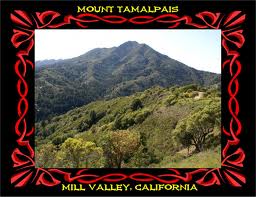 Today's sport of mountain biking evolved through a series of connected events, with the involvement of many people. Mt. Tamalpais in Marin County is generally regarded as the birthplace of the sport and of the mountain bike.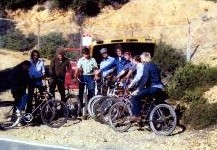 In the late 1960s and early 1970s, a group of Marin teenagers known as The Larkspur Canyon Gang rode 1930s-40s vintage single-speed balloon tire bikes on Mt. Tamalpais and through Baltimore Canyon in Larkspur, CA. Their exploits and attitudes earned them status as local legends and spawned the birth of mountain biking as it grew beyond their circle of friends.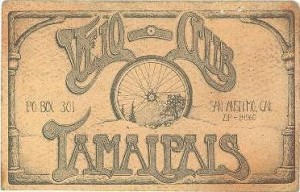 By 1973, "Ballooners" had found their way into the hearts and minds of a group of Marin road-bike racers from Velo Club Tamalpais. Devoted to racing their road bikes and to using bikes for transportation (many of them working in local bike shops) they added off-road riding to their cycling passions. They located, restored and collected old balloon-tire bikes made by Schwinn, Colson, Shelby and others—stripping off extraneous parts from the old mild-steel steeds, but retaining the heavy-duty one-inch-pitch drive trains and vying for who had the coolest original paint. The finest bikes of the day would be equipped with much sought-after high-performance vintage components such as Morrow coaster brakes, Schwinn cantilever front brakes, S2 chrome rims, fork braces, and genuine B.F. Goodrich knobby tires. These riders and a growing group of friends explored the trails and fire roads on and around Mount Tamalpais, aka "The Mountain," on their trusty, beloved "Inch-Pinchers."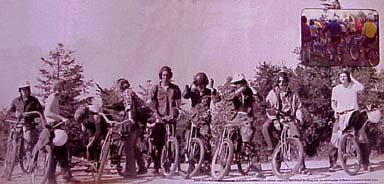 Another example from the early 1970s was a band of cyclists, The Cupertino Riders, aka the Morrow Dirt Club, from 75 miles south of Marin, who were modifying their bikes. They were grafting thumbshift-operated derailleurs and motorcycle-lever-operated drum brakes onto their klunkers to help them get up and down the south bay hills. In December 1974 a few of them came to a Marin County cyclocross race, where their technology was noticed. Then they went on to other pursuits.
In Marin County, the off-road riders not only kept on riding, they started the first organized downhill race series. They called it Repack, because they had to "repack" their coaster brakes with fresh grease after each race. The grease would vaporize in the excessive heat generated from extreme braking during the super-steep descent.
More and more Marin riders got involved. More and more innovation occurred. Eventually coaster brakes and inch-pitch drive trains gave way to light-weight components and completely new bikes with chro-moly frames specifically designed for the sport. The media was starting to notice — in fact some of the local riders were writers as well, adept at spreading the word. New businesses formed to sell off-road bikes and market them. A renaissance of bicycling had begun.
The origins of mountain biking were totally innocent. The sport and the bike came into being not as some faddist vision of profit-oriented marketing types, or from any one single person, but rather as the evolving product of true cycling enthusiasts doing what they loved. These cyclists found through fun and competition that the old one-speed "Klunkers" they were using could be improved with modern cycling technology. One innovation led to another and mountain biking as we know it today was born.

Love mountain bikes?  Become a member of the Mountain Bike Hall of Fame today!  Click here for info.
Thanks for your support!