Glenn Odell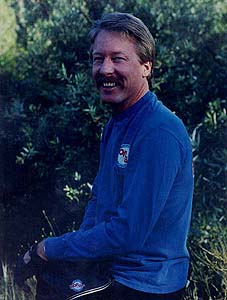 Becoming a family man was the impetus behind Glenn Odell's initiation into mountain biking. "After the children, Mathew, Seth and Alisa, became old enough to begin camping, I began looking for a way to accelerate my return to the outdoors. The mountain bike seemed like the most logical way to get into the back country with my family," he says.
Odell's involvement in the sport accelerated in December 1979 when he became partner with Ira Hughes in one of the first mountain bike specialty firms, Coast Cycling Specialties, and began designing components. In January 1980, he designed the Bruiser mountain bike frame, which was one of the first lightweight tig-welded Chromoly diamond frames built in the United States.
He took over the NORBA reins in 1983, the same year he promoted the first national championship race for mountain biking, a task he continued for the next two years as well. As NORBA president from 1983 to 1986, he developed the association into a full-service membership sports organization offering a monthly newsletter, accident and event liability insurance, aggressive lobbying to maintain cycling access on public lands, a coordinated national events calendar, and uniform rules for competition.
"My position enabled me to more effectively assert the interests of off-road bicyclists concerning access to public lands. Some of the more significant accomplishments include the adoption of mountain bike trail specifications in the Forest Service trail handbook, giving testimony to the Congregational Public Lands and National Parks Subcommittee on the merits of mountain biking, and providing a hands-on riding opportunity for the Secretary of Interior."
Odell also has written about and photographed the sport for Fat Tire Flyer and Bicycle Sport magazine, and served o the California State Recreational Trail Advisory Committee.
"While many cant talk about being part of the formative stages of mountain biking, Glenn was the "great communicator' and tackled the paperwork problem that others avoided and devoted endless house towards NORBA and the growth of mountain biking. There is not a die-hard mountain biker that has not heard of Glenn and been influenced directly or indirectly by his contributions to the sport," notes fan Al Farrell, himself an inductee in the Mountain Bike Hall of Fame.