Ned Overend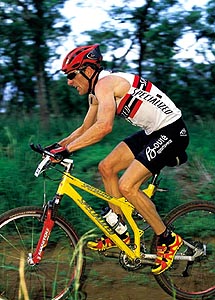 Web Site: www.boure.com
By the time he was 32, Ned Overend had climbed to the top of the world, both literally and figuratively. With much younger men in pursuit, Overend won two world mountain bike championships in August 1987; one in France ahead of a pack of Europeans, and the other in Mammoth, Calif., with America's best in pursuit. That was an exceptional year for Overend, as he also claimed the NORBA National Point Series and was the NORBA national mountain biking champion.
The world cross-country title was his again in 1988, and NORBA national champion titles were bestowed on him in 1986 and 1989 as well. Ned is known for his uphill climbing ability, both as a mountain biker and a road biker — which he does to get in shape for mountain biking. He has frequently dominated the Iron Horse Classic in Durango, which he now calls home, and when he won the NORBA nationals were held there, the event was dubbed the "Ned Nationals."
Now a member of and team coach for Specialized, Overend became on of the first mountain bikers to actually make a living by competing in the sport. He first signed with Schwinn in 1985, the first mountain biker to do so, and raced for that company through 1987. He supports his family, wife Pam and daughter Allison, by racing and endorsing products.
The son of a U.S. diplomat, Ned was born in Taiwan and raised tin Ethiopia and Iran, and he saw more of the world by the time he was 10 than most people do in a lifetime. He started his athletic career as a cross-country runner in high school in California, then became a tri-athlete, road bike racer and body surfer before taking up mountain biking in southern California (where he was studying physical education at San Diego State) in 1984.
"I wasn't destined to be a bike racer," he says. "I could have done a lot of things, but whatever it was, I wanted to be out in nature, not just out pounding a track somewhere."