Ross Shafer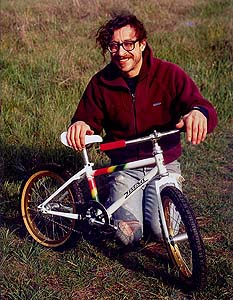 Ross Shafer built his first road frame in Paradise, California in 1976, and continued to build them under the Red Bush banner between carpentry and bike shop jobs. He finally started building frames full-time when he got a job as head frame builder at Santana Cycles. During that time, he built his first off-road bike (1981) using 650 B wheels.
After a year at Santana, Shafer turned his frame building skills to mountain bikes. Subsequently, Salsa Cycles was born with six custom built bikes utilizing personalized seat angles and the 71-degree head angle Shafer still uses today. His experience with riding road bikes in the dirt convinced him that a mountain bike's ideal geometry lay somewhere between the steepness of modern road bikes and the slack angles predominant on the mountain bikes of the day.
To further enhance the proper fitting of the frames, he started making custom stems in 1982. Salsa Stems emerged in 1984 as Shafer entered the market of quality cro-moly stems and production frames. Later that year he also introduced the roller cable guide.
He produced 100 Ala Carte production frames before stopping to concentrate on manufacturing stems and producing custom frames. The mass-produced frames reappeared in 1987, due to popular demand.
He designed one of the earliest butted cro-moly handlebars in 1987, which was then made by Tru Temper, and the next year a lighter bulged version was introduced.
This was also the year he began sponsoring the first all-women mountain bike racing team and became an official supplier of stems to the U.S. Olympic team time trial squad.
Although he now is charged more and more with managerial duties and less with custom frame building, Shafer continues to develop new products, such as tig-welded road stems and the Flip-loc quick release system. July 1991