EVENT RENTALS AT THE MUSEUM!
The Center of Cycling
The Marin Museum of Bicycling & Mountain Bike Hall of Fame is Marin's most unique event rental destination. Filled with bicycles and memorabilia from the 1860s to today's latest, the space has abundant natural light and a high ceiling, with natural wood truss construction and skylights. Have fun and at the same time help support the mission of the museum and cycling by holding your special event here!
Capacities
Our main gallery can seat up to 100 arranged in theater style or 80+ seated with tables.
For less formal events, our main gallery can accommodate up to 160.
For events that can include our large outdoor spaces, we can accommodate several times that many.
The space is fully accessible for people of all ages and abilities.
Our Space
Our space is suitable for events such as meetings, lectures, movies, parties, receptions, memorials, banquets, televised sporting events, presentations and so forth. It can be configured with tables, chairs, a bar, podium or stage to suit your needs. There is a lounge and research area with an extensive library of cycling books and magazines to browse.
Entertainment
For your viewing pleasure we have a theater-sized 180″ widescreen movie screen, a powerful 6,000-lumen professional HD video projector and an amazing surround sound system. A second, smaller HD projector is also available in place of or to accompany the main presentation. We also have a small screening room with a 50″ flat screen TV that seats 12 for a fun gathering.
Museum Events Calendar
October

2023

Sun
Mon
Tue
Wed
Thu
Fri
Sat

21

Mountain Bike Hall of Fame Inductions

•

Parties? Celebrations? Absolutely…!

The museum is THE place for birthdays, fundraisers, birthdays, weddings & receptions, rehearsal dinners, meetings… You name it!
Meetings
Have a cycling or sports related business? What better place to mix business with pleasure? Our fully equipped Audio-Visual systems will help make your event a success.
Outdoor Event?
We have a large parking lot in front of the museum that holds hundreds of people for large events, and a covered, lighted outdoor trellis area that seats 20-30 people and can have a cozy fire pit for evening events.

Rental Rates & Details:
(as of 1/1/23)
Parties, Dinners & other Celebrations or larger Meetings: $300.00 per hour with a 3-hour minimum event time.
Smaller meetings with up to 25 people with limited coffee/tea service: $150.00 per hour with a 2-hour minimum event time.
Setup/Cleanup: $100.00 per hour.
We have chairs & tables available for rent. Full pricing and inventory is on the Rental Application.
Talk with us about discounts for regular meetings for your local nonprofit organization or club.
Normal museum visiting hours are Thursdays-Sundays 11am-5pm
What's the next step?
Renting is easy as 1-2-3.
Check that your date(s) are available, then review the Rental Contract. If all looks good, fill it out and submit it to us.
We will review your Application and notify you when it is approved. Your date(s) are guaranteed at that point and we will bill you for your deposit and any rental equipment.
Have a great event!

Looking for a caterer, event planner or other professional to help you with your event?
Check out our Event Resources Guide for more information.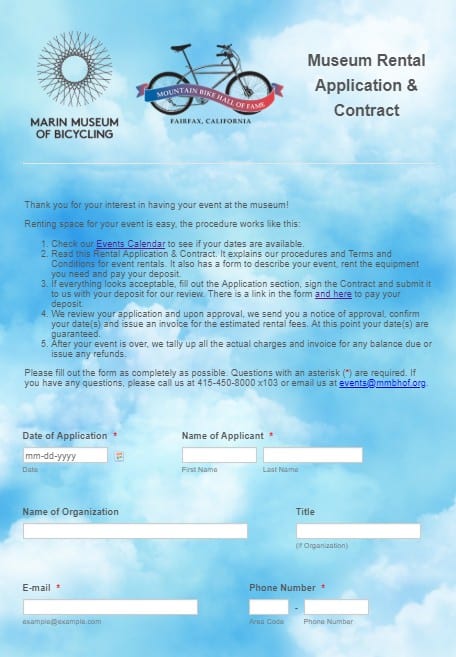 Rental Application and Contract
(Click for form)