John Tomac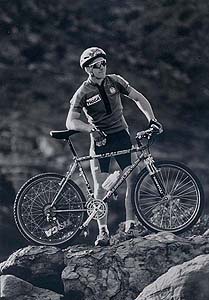 John Tomac was still a youngster when he began winning bike races; and at age 17, in 1984, he won the National BMX Cruiser Class Championship. Since then, "The Tome," has crossed over into both road racing and mountain bike racing, excelling at them both and becoming the natural successor to the Hall of Fame racing title born first by Joe Murray, next by Ned Overend.
He has won more mountain bike racers than anyone in the sport, and done so at every level and in all aspects: cross-country, uphill, downhill, even trials. In 1988 and 1990 he won the World Mountain Bike Championships overall title and has claimed many NORBA and national titles as well. In 1991, he has started out fast, winning the Grundig World Cup #2 in France, the Italian National Championship Series #1, the NORBA National Championship #1 in Durango and the Rage in the Sage Circuit Race in Gunnison, Colo. There are those that say he would have won the overall Rage title for the second consecutive year, had he not taken a training ride form Montrose to Gunnison the morning of the circuit road race.
He was voted the top all-around rider in the world in 1988 by Velo-News, and was the Mountain Bike Action Magazine Truck Series Champion in 1987 and 1988. As a roadie, he earned the title of "Best Young Rider" in the 1988 Coors Classic Prologue.
Also known as JT, Tomac Attack Farmer John, and Johnny T, he races for Raleigh MTB and the Motorola Professional Road Team. He's originally from Owosso, Mich. and, as his fans say, "he is indeed a credit to his profession."