Bill Cockroft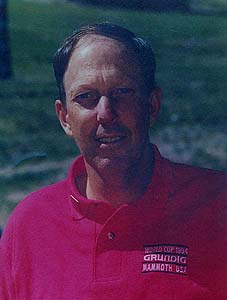 Bill Cockroft was born August 26, 1947. Bill has been employed at Mammoth Mountain Resort since 1969, where he has been involved in all aspects of mountain operations. In respect to mountain biking Bill was instrumental in developing one of the first and most formal mountain bike parks in the country utilizing Mammoth Mountain's ski lifts and area. He is currently Director of Operations at this park, where he influences the planning of trails and the facilitation of mountain biking events.
Since 1984, Bill has been a leader in the arena of events and races. His foresight helped him create the first World Championships under the NORBA name in 1987, `88, and `89. Although these events were not recognized by the UCI, the precedent was set and the UCI then sanctioned the Worlds in 1990 in Durango, Colorado.
Cockroft actively pursued the promotion of downhill mountain bike racing and touring. He co-authored the name "Kamikaze" for his Mammoth Mountain downhill event. The downhill discipline became recognized as a national and world mountain bike race title in 1990. Cockroft also was the first to apply the dual-slalom format to mountain biking. He showcased the first mountain bike dual-slalom competition in 1986.The side-by-side format was then recognized as a national championship event. In 1992, Bill created another new competitive format, the Eliminator, dual-downhill racing adding a new level of excitement to downhill racing.
Bill served on the board of U.S. Cycling for two years and the NORBA board since its inception in 1989. He has played a key role in upgrading the show of mountain biking with respect to promotions and races. Since 1985, the Mammoth Mountain Race has had the largest attendance, both spectators and entries, of any U.S. mountain bike event. Bill's event also boasts the largest outdoor mountain bike exposition to date.
In 1994, Mountain Bike Action recognized Cockroft as one of the "Ten Men" of mountain biking siting his work in the promotion of mountain biking through racing and furthering the mountain bike name with impressive television coverage of the sport.