Charlie Cunningham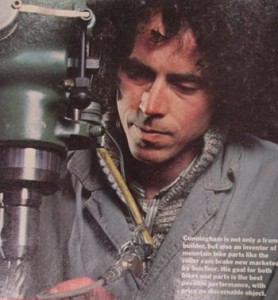 Web Site: www.cunninghambikes.com
The furthest extension of modern bicycle technology – to the point of creating a unique bike to fit a particular human – is achieved in custom bike building.
Charlie Cunningham first began building bikes in 1977. He used oversized aluminum tubing with a thinwall chromemoly fork and magnesium stem. It weighed 24.5 pounds. "When you build a bike to meet your own exact riding style it becomes like and extension of the body. No other bike could do it." Riders of his custom bikes agree.
But there is more to bicycles than just the sum of their parts, no matter how good the parts are. "The bicycle is a way for people to gain contact with something that has been misplaced. Mountain bikes are a perfect way to combine technology and nature in a way that is friendly to life. They can be an alternative to the abuse of technology that is so widespread in our world today. The more one uses a bicycle, especially in a natural environment, the more sympathetic and understanding one becomes of oneself and the planet," Charlie explains.
Helping to meet the intangible needs of people today is what motivates Cunningham. "The best way to say something is to live it, so I will be making better bikes and finding more ways to use this technology in everyday living."
Some of the things Cunningham invented or helped pioneer include the following: welded aluminum Mt. Bike frames, toggle brakes and extra wide front hub, zero dish 136 mm rear hub, Type 11 racing forks, roller cam brakes, Type 1 towing forks, L.D. or gooseneck curved stem for drop bars, tow flips, grease guard bearings for bicycle components including hubs, boltless taper mounting of stems, sloping top tube and the shape of the RM 20 rim for Araya. Perhaps he is most noted for Ground Control tires, named by Hall of Famer Jacquie Phelan, his wife.
"The mountain bike experience in its purest sense happens when the bike is working in perfect harmony with the rider and the terrain. This experience in its many forms is what so many people in today's world need so much and what I hope to contribute in some small way.