Cindy Devine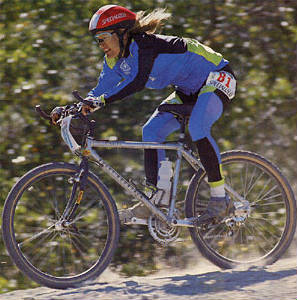 In the summer of 1988 a 28-year old Whistler physical therapist named Cindy Devine arrived on the American racing scene at Mammoth Lakes, California, which, at that time, was the most thriving mountain bike scene in the world.
It was only her second year of mountain biking and she ended up leaving Mammoth with a Bronze medal in both the Downhill and Dual Slalom events.
The following year – 1989, Cindy continued to challenge her American competitors for podium finishes on the NORBA circuit, and eventually won a Gold and a Bronze medal at the 1989 unofficial World Mountain Bike Championships; this time she won Gold in the Downhill and Bronze in the Slalom.
In 1990 the World Championships became an official UCI sanctioned race. It was during this event that Cindy marked her place in history as the first "official" World Champion in the Downhill.
By 1992, Cindy had captured one Gold and two Bronze World Championships Downhill medals, three Kamikaze Downhill titles, 3 Canadian Downhill National Championship titles and the classic "Desert to Sea" 150 mile mountain bike race win (Palm Springs to San Diego).
Cindy's world class accomplishments, professionalism, and sheer talent provided inspiration and motivation for many other successful Canadian mountain bikers, including Alison Sydor, Lesley Tomlinson, Elladee Brown, Andrew Shandro and Roland Green.
To this day, multi-time World Champion, Alison Sydor, credits Cindy for her position as a role model, athlete and flag bearer for the mountain bike movement in Canada.
Currently, Canada is a leader in the sport – whether it's manufacturing, racing, freeriding or touring, the scene here is thriving, It is the birthplace of the "Freeride" movement and home to current World Mountain Bike Champion, Roland Green.
Ask anyone in this country about Cindy Devine – everyone, and I mean everyone, will agree that she was the first mountain biker from this country to bring the sport to another level. Her notoriety as a racer and ambassador has influenced so many people to experience the sport in this country…she is an integral part of the history of mountain biking in Canada.
Her career will forever be remembered in Canada, and throughout the world.
How did she come to be the fastest downhill mountain biker in the world in 1990, after only 3 years on a mountain bike?
Cindy was born in Maracaibo, Venezuela of an Icelandic mother and a Canadian father. At 4 years old she was growing up in the now infamous "North Shore" of Vancouver, B.C., amongst the ancient cedars and steep slopes of these coastal mountains.
By 14, Cindy was commuting 80 km every Saturday on a 10-speed, from her house to the Vancouver beaches. What started as lengthy day trips as a teenager, eventually grew into cycling across Canada when she was 21, across Hawaii, Fuji, Cook Islands and New Zealand at 24, and across Europe at 26.
Cindy possessed an obvious talent for power, independence and endurance. While on her cross Canada ride, she rode solo, slept in church cemeteries, and consumed only shredded wheat and skim milk! This is a woman who has spent large amounts of time inside the caverns of her mind…
Her favorite rides are countless, but the worse place she reports riding is across Eastern Germany only days after Chernobyl blew.
Devine retired from racing in 1994 as 5-time undefeated Canadian National Downhill Champion. She continues to stay involved in mountain biking as an instructor during the summer months with the West Coast School of Mountain Biking and the Shimano Dirt Series.
She has also returned to her rehabilitation medicine career with a successful consulting company in Rossland, B.C.
In June of 2000 at the World Mountain Bike Championships in Sierra Nevada, Spain, Cindy and several others, including Thomas Frishnecht, Ned Overend, Alison Sydor and Nicolas Voillouz, to name a few, became founding members of the "Rainbow Club" – a celebration declaring a decade of World Champions.
Cindy has graced the covers of many a national and international bike magazine and Canada has a "daughter" that they are extremely proud of at an international level – A dedicated brave heart who raced with so much style and class.
She has mentored an entire nation of riders, both competitively and recreationally, and has created a legacy that will forever be the "era of Cindy Devine"… the first and the only!!
Submitted by Elladee Brown