RIDES
Marin County
Road & Gravel

RIDGECREST LOOP – One of the nicest road loops in the world! 33.17 miles | 3,721 ft elevation gain | Lakes, mountains, ocean vistas, San Francisco skyline and the Bay, and Golden Gate Bridge views. We strongly recommend riding this in a counter-clockwise direction to avoid the climbs up from Mill Valley on Hwy 1 that has little-to-no safe shoulder.
Our friends at Studio Velo in Mill Valley, CA are showcasing the incredible, world-class road riding in Marin County in this nice collection of rides on their website: MARIN'S CLASSIC LOOPS  Check them out!
Visiting San Francisco? Renting a bike? Take the ferry to Larkspur and ride on over to Marin Museum of Bicycling. It's an easy, flat 40 minute ride from the Ferry Terminal.
Mountain
Our friends at the Bay Area Mountain Bike Rides have compiled a nice collection of trail rides. Experience the fun of riding in the amazing Bay Area, where mountain biking was born. Click here for more info.
Camp Tamarancho. This is THE nicest, legal single-track in Marin. Owned and operated by the Boy Scouts of America, you need a day or an annual pass to enjoy this very fun 7.8 mile loop. Generally for intermediate to advanced riders only— Tamarancho is not a good ride for newbies. Click here for more info.
China Camp State Park. These trails are for beginners to expert and offer a wide variety of challenging terrains and beautiful vistas. Click here for more info.
Elsewhere
Northern California – Northern Sierra Nevada Mountains
Please obey the rules of the road and off-road areas. Always ride in control and respect the environment, your fellow riders, hikers, equestrians and our wild animal friends. Yield the trail to uphill riders.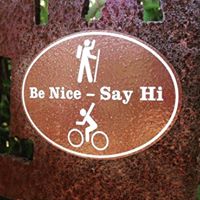 Be nice, say "Hi"