Bob Woodward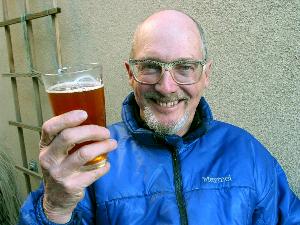 The members of the Central Oregon Trail Alliance would like to nominate Bob Woodward for the Mountain Bike Hall of Fame in the journalism category. Bob belongs in the Hall because of his dedication to the sport from its infancy until today as a writer, photographer, trail builder, access advocate,competitor and promoter of the sport.
Bob was the first journalist to write about and promote mountain biking in the outdoor press. In 1980, his stories on the "new" sport of mountain biking and profiles of mountain bike makers began appearing in the outdoor industry's leading trade magazine-National Outdoor Outfitters News (later
Outside Business). Woodward continued to write and photograph mountain biking articles throughout eighties for consumer magazines like UltraSports, Backpacker, and Cyclist. As an editor at Backpacker, Woodward lobbied for and got increased mountain biking coverage, Later as the editor of Adventure Travel magazine, he made mountain biking stories part of the magazine's regular the editorial coverage.
In 1991, he authored the "Mountain Biking" book for Sports Illustrated. The book is still considered to contain the most accurate history of the bike and the sport. Woodward competed for ten years (1983-93) as a NORBA licensed racer. He was best remembered on the race scene for his colorful
assumed race names: the Reverend Lester Polyester and Art Deco. He was a double silver medallist (masters) at the 1987 World Mountain Bike Championships at Mammoth Lakes, California. He is a founder of the Central Oregon Trail Alliance and remains an avid trail builder and trails advocate.
He's also a member of the Law Enforcement Bicycle Association (LEBA). When serving as the Mayor of Bend, Oregon from 1997 to 1999, he was called "America's only mountain biking Mayor." This guy is mountain biking's stellar senior citizen.
Bio submitted by Paul Hammerquist