Scot Nicol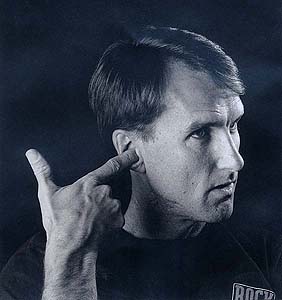 Web Site: www.ibiscycles.com
In 1965, at age 11, Scot acquired his first ballooner by rather questionable means. The irresistible late 1940s model Schwinn was in a neighbor's garage when he spied it. Always one to make a deal, Scot quickly offered his mother's lightweight bike as a trade on this classic cruiser. "Mom finally forgave me 22 years later when I repaid her (with interest) by delivering her a custom Ibis."
Acrobatic tricks soon became his specialty on his new bike. In Breeze and Gary Fisher in a trip to Crested Butte for a trip over Pearl Pass. "They liked me at first because I had a car that would probably make it to Crested Butte (unlike any of them). Later, when they found out I could ride up and down hills as fast as any of them, plus ride wheelies in circles around them, they accepted me into their group."
This proved to be a valuable association for Scot, as he apprenticed with Breeze and Cunningham that winter. Soon after that, the first Ibis rolled out of the shop he had set up in his greenhouse in Fort Bragg, Calif. That bike was shorter and steeper, and rode more comfortably than the other mountain bikes available at the time, so it soon became successful.
Scot also raced mountain bikes in the first years of the sport; his most notable results were a sixth place at the 1983 NORBA Nationals, a win of the Last Central Coast Clunker Classic, and an overall win at the first Bishop 7500/Mammoth Stage Race. In 1984, Scot met up with Tom Hillard and was quickly hooked on trials riding, leading to several years of development of trials bikes, with some strange incarnations along the way. Scot used his acrobatic and bike handling skills to win dozens of trials events, finishing third at the national championships in 1985.
A 1987 trip to Europe with his wife Ginny was the thrust behind the production of the first Ibis Tandem. From that beginning, Ibis produced a few tandems in 1988, many more in 1989 (after being named bike of the year by Bicycle guide Magazine), and fully half of the production in 1990 is devoted to satisfying the demand for the two tandem models that Ibis produces.
"Ibis is a bird of beauty, revered by the ancient Egyptians for their grace and form. In fact they often carried their mummified Ibis with them to their tombs, "explains Nicol. "Although I don't really hope to have people get buried with their bikes, hopefully people will continue to ride and enjoy their Ibis bikes while enjoying this sport that has brought created so many wonderful friendships."