Mike Kloser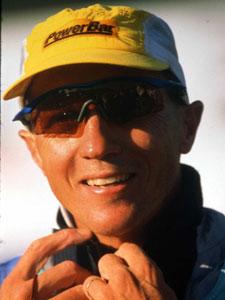 Mike is truly a pioneer in our sport.
Mike is not only one of the most accomplished athletes in the history of Mtn Biking, he has also made important contributions in race promotion and athlete representation with the UCI.
Mike was the first American athlete to focus on Europe for the entire world cup season and battle the Euro's on their continent. Mike was the first athlete representative on the UCI board at a critical time in the development of international MTB racing. Many of the old school UCI board members were trying to implement road racing and cyclocross style rules for MTB racing. Mike was successfull in keeping MTB racing rules "true to their roots". Mike promoted the Tour of the Rockies Stage Race in Vail in the late
80's and has been a pivotal player in Vails support of numerous World Cups and World Championships promoted by the Vail Valley Foundation.
Mike is quite possibly the best adventure racer in history, a sport which includes mtn biking as a key element and may surpass all other forms of mtn bike racing in its popularity and media exposure.
Some of Mike's outstanding accomplishments include:
*European, World Cross Country Champion, Crans Montana Switzerland, 1988.
*2-times World Cup 2nd place overall 1989-90.
*Winner of several World Cup series races including the finals in Italy in 1988 and Switzerland in 1990.
*Silver medal in the Mammoth California World XC championships 1987.
*Silver Medallist in the Downhill World Championships 1990.
*Iditabike Alaska endurance race Champion 1988-89.
*1999 Vail Ultra 100 Mountain Bike Champion.
*International Cycling Board (UCI), athletes representative for 4 years.
*ECO-CHALLENGE ADVENTURE RACES
1st place – 2001 New Zealand
1st place – 2000 Borneo
1st place – 1998 Morocco
2002 Primal Quest Aventure Race Champion
2001 Gorge Games Adventure Race Champion
2001 Raid the North Extreme Adventure Race Champion
2001 British Virgin Island Expedition Champion
2001 National 24-hour Adventure Race Champion
2001 Xstream Solo Adventure Race Series Champion
Mike, born in Dubuque Iowa, one of 10 children, resides in Vail, Colorado with his wife, Emily, and their children, Heidi and Christian. The family joins in on Mike's traveling and training adventures whenever
possible.