John Stamstad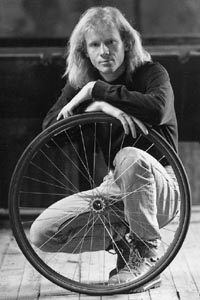 Ultra-Marathon Cyclist John Stamstad lives in Seattle, WA while competing in some of the world's most difficult Ultra-Marathon mountain bike races. Stamstad has dedicated himself to seeking those events which claim to be the "most challenging" or the "most difficult".
Stamstad first entered Ultra-marathon cycling by competing in the 1985 race across Missouri – 547 miles non-stop from St. Louis to Kansas City and back. Thirty-six hours later Stamstad was hooked. In 1991 Stamstad switched to mountain biking when he entered Montezuma's Revenge-a 24 hour wilderness race in Colorado in which competitors are required to climb a 14,272 foot mountain-Gray's Peak. In 1992 he traveled to Australia for the first off-road crossing of that continent by bicycle. The Australian Bicycle Challenge, a 3500-mile off-road race through the remote Outback. Also that year he entered his first Iditasport, a race in Alaska, in February, along the famous Iditarod Trail. Stamstad won that race in 1993, '94, '95, and '96. In '97 the race was changed to the Iditasport Extreme and distance of the race was increased from 170 miles to an arduous 350 and went across the Alaska Range of mountains. Stamstad was the winner again with a time of 5 days, and 5 hours. Stamstad followed that with victories in 1998, 1999, and 2000.
Stamstad also holds the Ultra-Marathon Cycling Association 24 Hour Off-Road World Record of 352 miles, and in 1996 Stamstad was the first person to ride the 24 Hours of Canaan solo when he entered the relay as 4 different variations of his name. The next year an Official Solo category was created, and 24-Hour Solo racing has grown in popularity every year.
The year 1999 was highlighted when Stamstad conquered the Great Divide Mountain Bike Route-the longest off-road trail in the world. He completed the 2500 miles and 200,000 vertical feet of climbing in 18 days and 5 hours.