Joe Breeze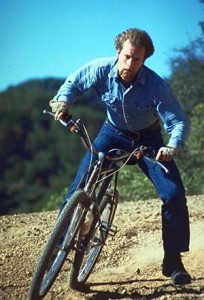 Web Site: www.breezerbikes.com
Joe Breeze is one of the central figures in the development of mountain biking. He is best known as the designer-builder of the first successful modern mountain bikes. His Breezers were the first all-new bikes built with rugged frames specifically for mountain biking (1977 and 1978). Breeze became a leading designer and proponent of a sport that has gotten more people on bikes in the western world than at any time since the 1890s. Breeze attributes his successes with mountain biking to his passion for bicycling, evident in his oft-quoted line, "We were just havin' fun."
Born in 1953 and raised just north of San Francisco in the shadows of Mt. Tamalpais, Marin County, California, Joe was introduced to bicycling by his father, who loved lightweight, efficient vehicles. Throughout the 1950s, father Bill Breeze often rode his road-racing bike from their home in Mill Valley to work at his "Sports Car Center" in Sausalito. Joe learned from an early age how useful bikes were for exploring his environs and getting to the places he needed to go. Yet in 1960s America, this kind of bicycling was a well-kept secret. Bikes were mostly seen as kid stuff.
Joe so enjoyed cycling, and saw such value in this vehicle, he wanted to turn others on to bicycling. He and his friends were soon riding beyond town. When Joe was 14, he and his brother Richard rode 200 miles to Lake Tahoe. Racing seemed like another way to advertise how far and fast a bicycle could go. So in 1970, Joe took up organized road racing, figuring that squibs in the local papers could broadcast cycling's potential to a wider audience. He raced road bikes from 1970 through 1979, eventually in the top category.
Another way in which Joe hoped to promote cycling was to restore and display old bikes from bicycling's golden era, the 1890s. One day in 1973, while scrounging through bike shops in Santa Cruz, the best old bike Joe could find was a forlorn 1941 Schwinn-built ballooner, a fat-tire paperboy bike. His friend Marc Vendetti was with him and said that years earlier he had ridden a ballooner on Mt. Tam. On a lark, Joe paid $5 for the old bike. Once home, he scraped the frame down to the original "featherhead" paint job, then rode it down Mt. Tamalpais' Railroad Grade. It was a blast! Joe began showing up to Velo Club Tamalpais meetings aboard his fat-tire bike, and friends followed suit. Soon, Gary Fisher sported a Shelby Traveler, and Otis Guy and Marc Vendetti were on 1947 Schwinns. More were to come and many rides on Mt. Tam ensued.
By 1974, Joe was building road-racing frames. He was also still having fun riding the dirt with friends, on old Schwinns and other balloon-tire clunkers. But those old frames weren't built for such abuse. They were not only heavy, they were breaking. Fellow racer/rider Charlie Kelly asked Joe to build him a frame for mountain biking, and Joe agreed.
As Joe worked on the design and fabrication of his prototype in 1977, he took orders for eight more. Those 10 bikes, called Breezers, are considered the first successful modern mountain bikes. He welded the frames using cro-moly steel aircraft tubing, and built up the bikes with all-brand-new parts. He finished Breezer #1 in September 1977 (and rode it to victory at Repack, its maiden voyage). He completed Breezers #2 through #10 by Spring 1978. For the next few years, while still focused on road racing, Joe continued to refine and share his design ideas, helping shape the next generations of mountain bikes. While building more Breezer mountain bikes in the early 1980s, he taught framebuilding to several friends, including future Hall-of-Famers Steve Potts, Scot Nicol (Ibis), and Otis Guy.
As a machinist, Joe Breeze worked on many component innovations. Among them were the Unicrown fork design and his patented Breeze & Angell Hite Rite seat adjuster, which was one of the new sport's first accessories. In 1983, he helped found the National Off-Road Bicycle Association (NORBA) to promote mountain bike racing and trail access. He even drew up the NORBA logo, which was used, untouched, for nearly 20 years. Always focused on progress in bike and component design, Joe insisted that NORBA adopt a racing self-sufficiency rule. His intent was to ensure that mountain bike companies develop vehicles upon which any rider in the wilds could depend. He knew this would encourage the development of better bikes for all.
Joe Breeze won 10 of Marin County's 24 Repack races. (This seminal race was held between 1976 and 1984—see History.) His 1977 Breezer #1 is on permanent display at the Oakland Museum, in the Cowell Hall of California History. Breezer #2, built for Charlie Kelly, is in the Mountain Bike Hall of Fame collection at Crested Butte, Colorado, and so is Joe's beloved 1937 Schwinn Excelsior. Another of the first 10 Breezers is at the Shimano Museum in Osaka, Japan.
Joe has researched the roles of many players in early mountain bike history. He championed the MTBHOF inductions of Ignaz & Frank Schwinn, the Cupertino Riders, and the French VCCP riders. In 1999, Joe helped spearhead a movement to acknowledge European contributions to the sport of mountain biking. It had been a welcome surprise to Joe that mountain biking became so popular in Europe, where people already understood bikes. In October 1999, he went to Finale Ligure, Italy, to help design and set up a display of the Mountain Bike Hall of Fame collection and oversee the long-overdue inductions of some of the sport's leading players.
Joe designed and produced his Breezer mountain and road bikes throughout the 1980s and 1990s. Today, he continues to advocate the wider use of bicycles. He has done extensive volunteer work for the Marin County Bicycle Coalition, producing a Marin cycling map with both road and off-road routes, and working to improve facilities for transportation cycling. His new line of fully equipped Breezer bikes is dedicated to bringing fun, fitness and sustainable transportation into the daily lives of North Americans. See http://www.breezerbikes.com