Ed Zink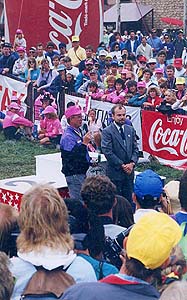 At age 20, Ed purchased a bicycle shop without ever having ridden a 10-speed. So, obviously, this man was intended to become a pioneer in the sport of bicycling!
Ed's own racing background includes racing the Durango to Silverton train. He first rode this route with Don Mapel, competing against the train, in 1982. He won by 30 seconds! Also in 1986, Ed joined the 403-mile Ride the Rockies tour from Durango to Denver, Finishing ahead of 1763 "roadies".
Ed has made contributions to mountain biking primarily as a promoter. His promotions include teaming with Tom Mayer to found the Iron Hose Bicycle Classic in Durango, Colorado, to which mountain bike racing was added in 1983. He also promoted the 1986 and 1987 NORBA Nationals Championships. From 1989 to present, he has been a member of the Board of Trustee for NORBA. The first internationally unified world championships were held in 1990, and Ed chaired the organizing committee for this event.
Other contributions include the encouragement and support of world-class racers, production of Mountain Bike Mania (a mountain bike video) and promoting mountain biking internationally.