Steve Ready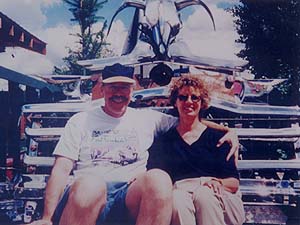 Sadly for the world Steve Ready passed away July 23rd, 2013. We have another angel watching over us!
Go to this link to see Steve accept the BRAINy Award for Lifetime Achievement!
http://www.bicycleretailer.com/north-america/2012/10/02/video-steve-ready-accepts-brainy-award-lifetime-achievement
Producer of Interbike
Steve Ready has been active in the bicycle industry since 1974. His interest began as editor of Bicycle Dealer Showcase. In 1981, Ready joined with Herb Wetenkamp to found Interbike. The first Interbike EXPO was held in Las Vegas in 1982. Guest speakers at that first Expo, helping conduct a seminar on mountain bike business, were Charlie Kelly and Gary Fisher.
"We've always tried to encourage new and fresh forces in the marketplace," Ready says. "In our first show, there were maybe half a dozen mountain bike exhibitors. Now, there are about six hundred."
Interbike has grown to become the largest bicycle trade show in the world. At 1994's Expo, there were buyers from 57 countries, as well as over 4,000 retail stores and 900 companies represented.
Steve's recreational endeavors include: riding his classic Cook Brothers Cruiser or his Cadex aluminum mountain bike.
Steve's greatest contribution, however, has been bringing the bicycle industry together, worldwide, at Interbike. "Interbike is a cultural event, as well as a business event," he says. "At the close of each show, we want people to return home feeling a little better about the business they've chosen to be in."