Susan DeMattei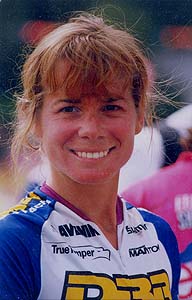 Susan DeMattei brought happiness to the American cycling community in 1996 when she captured the Bronze Medal in Mountain Biking at the Olympics in Atlanta, Georgia. Hopes were high for many American racers, as 1996 saw the inaugural Olympic mountain bike event of a sport spawned in America. Susan topped off an impressive racing career by becoming the only American Mountain biker to bring home a medal.
Born in Marin County, California in 1962, Susan became interested in cycling while at Chico State University. She competed in a few triathlons and mostly pedaled on the road. Soon she discovered the fun of mountain biking and the thrill of racing and by 1987 she was showing many impressive finishes. From 1990 through 1996 she finished in the top three in the NORBA Championship Series every year but one. In 1994, Susan took the silver medal in the World Championships in Vail, Colorado.
For Susan the top place finishes are not the highlights of her cycling career. Mountain biking has had a profound effect on her life in many ways. The most important of these was falling in love and marrying teammate & best friend Dave Wiens. In addition to finding her soulmate, Susan's involvement in MTB racing has enabled her to fulfill a dream that included travelling, competing against the best racers in the world, and ultimately participating in `96 Olympics.
Susan retired from competition after the Olympics but has stayed involved with the sport. This year she is guest teaching at MTB camps across the country and "color-commentating " for the NORBA National race series on TV.
Susan hopes to inspire all people to get on bikes, whether for recreation, racing or transportation She made her high-profile race career a conduit to convey her love of mountain biking, espousing its benefits of physical and mental well-being through the enjoyment of nature, camaraderie, personal challenges and confidence building.
(Bio compiled by Susan DeMattei, edited by the Hall of Fame)