Thomas Frischknecht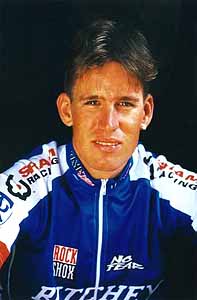 Today, Thomas Frischknecht is Europe's Elder Statesmen of mountain biking. He started his cycling career with cyclo-cross in 1985, at the age of 15. After his father (a world-class cyclo-cross racer) gave him one of his old bikes, his previous favorite sport, soccer, was over. Young Frischknecht won almost every cyclo-cross race in his class. In 1987/88 he won 21 out of 22 races, including the Junior World Championship.
In 1990, Dave McLaughlin brought Thomas to Team Ritchey to race the NORBA National Championship Series. The second NORBA race he competed in, he won, beating all the U.S. stars at the age of 20. After travelling through North America for four months, he finished his first mountain bike season with a silver medal at the first official (UCI) Mountain Bike World Championships in Durango, Colorado.
"Frischi" has continued with outstanding results and is the consummate professional on and off the bike, a superb ambassador for the sport. He now has four World Championship Silver Medals and a Silver Medal from the Atlanta Olympics. He has won the overall Cross-Country World Cup three times, and has won 15 World Cup races, more than any other rider.