Patrice Drouin & Chantal Lachance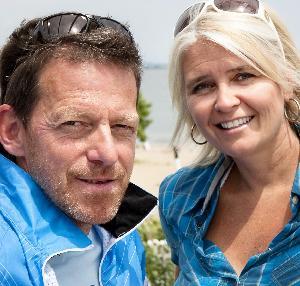 Web Site: gestev.com
PATRICE DROUIN AND CHANTAL LACHANCE (GESTEV EVENT MANAGEMENT)
Without Patrice Drouin and Chantal Lachance from GESTEV Event Management, Mountain Biking may never have had a World Championship, World Cup Series or inclusion in the Olympic Games. From helping to create the rules that govern world-class racing, to producing 20 years-in-a-row of World Cups and World Championships, no other promoters have fueled as much success and fun into mountain bike racing as Patrice and Chantal.
A Quebecois native, Patrice discovered mountain biking while working as a ski instructor at Whistler in 1980. He quickly got the bug and started racing MTB's in 1982 on the West Coast, making pilgrimages to Marin to meet Ritchey, Fisher, Breeze, Kelly, Murray and the rest of the Mt. Tam legends. Not much later he would visit the Cook brothers in Crested Butte during the Fat Tire Festival and enjoy the riding with locals!
After moving back to Quebec, he opened in 1983, one of the first Mountain Bike-only shops east of the Mississippi, "Vélo Caméléon". Realizing that there wasn't a local trail or racing infrastructure, Patrice started the Quebec Mountain Bike Association (AQVM) working with Glenn Odell and NORBA. This led to work with the Quebec Cycling Federation, the Canadian Cycling Federation, and ultimately the FIAC/UCI.
In 1989, he was enlisted to work with the FIAC/UCI to define the rules Mountain Bike racing, to conceptualize the World Cup and World Championship racing, wrote the first international commissaires course and exam, trained commissaries around the world, designed courses in many countries, ultimately leading to the first unified World Championships at Durango, CO, in 1990. By this time, in 1991, Patrice had partnered with his good friend Chantal Lachance to officially form GESTEV in early 1992, a company that would produce mountain bike races and other events.
Since 1991, GESTEV has produced at least one World Cup or World Championship event EVERY year. No other promotions company can claim a streak like this. When the UCI needs a last minute solution for a weather-cancelled race, they call GESTEV to find a solution.
Races at Mt. St. Anne – where the Worlds will be held for the second time in 2010, have been rated at the top of the list by the Racers and Teams of the circuit. The after-race parties thrown by GESTEV are legendary in their own right, leaving lasting impressions for the racing icons who cut loose after a season of discipline.
Most recently, GESTEV has begun promoting Velirium (Velo Delirium) – a three-week festival of all things mountain bike. Starting with a regional racing weekend, followed by a Marathon from Quebec to Mont St. Anne, followed by the World Championships, cycling enthusiasts get weekend after weekend of races and parties celebrating the mountain bike.
While their last 20 years of mountain bike promotion have been legendary, Chantal and Patrice show no signs of slowing as they move into their third decade of World Cup and World Championship promotion, elevating Mountain Biking to the highest levels imaginable.
Please give your support by voting the best in the business into the Mountain Bike Hall of Fame – Patrice Drouin and Chantal Lachance.
Nominated by Hall of Fame member Steve Boehmke