Robin & Bill Groff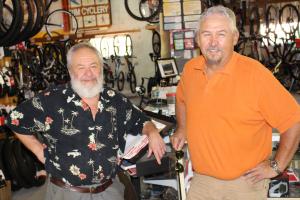 Web Site: www.rimcyclery.com
The year was 1983; the golden days of Moab's mining boom had long since passed, and although Arches & Canyonlands National Parks existed, tourism was not a major factor in the local economy. Jobs were few and Robin & Bill Groff (along with their father John) had recently been laid off from their mining based employment. It seemed to make no real sense at the time, but the brothers were avid cyclists and they decided to open a bike and outdoor gear shop.
The history of the "first" mountain bikes will always be hotly debated, but at the time mountain biking was nothing other than something a very small amount of people did mostly in Marin County and Crested Butte. Rim Cyclery actually started with road bikes.
One of the first customers to walk through the doors was a guy named Scott who had ridden from Santa Barbara, California on a modified 5-speed Ross. The bike itself was a kind of precursor to the modern day mountain bike. Robin had seen ads in the Fat Tire Flyer for these new MTB's. In the fall of '83 the brothers became Ross dealers and soon after brought in something new from Specialized called a "Stumpjumper".
Robin began helping his cowboy friend Deuce round up the cows using his new mountain bike. At slow times he scouted trails and explored the backcountry, all the while learning what this new bike could do. He and Dan Hosco decided to try the bikes out on an old (built in 1969) motorcycle route called the Slickrock Trail – they knew they were on to something good.
Rim Cyclery started renting mountain bikes in the spring of 1984. The Groff brothers teamed up with recent transplant named John Groo to start a guide service called Rim Tours. The first tour consisted of 1 customer being hauled out to the trails in the infamous pickup truck "Old Green".
A photographer from National Geographic named Ken Redding showed up in Moab looking to shoot the red rocks and saw people riding them on bikes. Hank Barlow saw those pictures in Crested Butte. Hank had been one of the group of "mountain bikers" that had roots in both Crested Butte and Marin County. He also had been toying with the idea to start a new magazine. He was looking for something spectacular for the premier issue – he was pretty sure he had found it so he headed out to Moab.
The first issue of "Mountain Bike" came out in 1984 and Moab was all over it. The cover photo (this was the first full color MTB magazine) featured a stunning view of Moab Valley from the Slickrock Trail. Articles and photos inside were all about riding in canyon country. This did not go unnoticed.
There were a core of mountain bikers from Marin County. They of course saw the magazine and immediately planned a trip to Moab. When they arrived, they were blown away and everything came together. It is said that in the realm of mountain biking, Crested Butte provided the "spirit", Marin County provided the "tools", and Moab provided the "place". The triad was complete, mountain biking had arrived and Rim Cyclery was in the thick of it.
Robin and Bill attended the Crested Butte Fat Tire Festival in 1985. It seemed like a great idea but perhaps a bit too spectator based. They decided to do something similar in Moab but with more of an emphasis on participation. Halloween of 1986 saw the first unofficial Canyonlands Fat Tire Festival, put on by Rim Cyclery. It was an organic, spontaneous event that grew over the years to legend status. This was a time for the industry "hotshots", racers, and the "regular folk" to get together, ride hard, relax, and have a good time. There are too many stories from the festival days to recount here, and most of them are better told over a campfire or in the backroom after a long day of riding. Robin still won't tell the real details of that all-women's ride in '86 that he led.
Road biking was still a part of Rim Cyclery and the Groffs started putting on the Moab Stage Race in 1986. Future stars such as Lance Armstrong, Bobby Julich, Davis Phinney, Ned Overend, and the Grewal brothers all raced here as juniors or neo-pros. The series lasted for 4 or 5 years before morphing into a mountain bike race that eventually became the Tour of Canyonlands.
As the years went by Rim Cyclery continued to grow and change. Rim Tours grew into a busy and successful independent business. The first coffee/espresso bar appeared (and disppeared) in front of the store. High end rental bikes became the norm after Rim set the standard with custom built Mountain Goats, Kleins, and the first suspension and dual suspension rentals available. Riders from all over the world made pilgrimages to Moab and Rim Cyclery and kept coming back. The MTB world changed (many times) but Rim Cyclery is still here, providing everything visitors (old and new) need for all their canyon country adventures.
The trail that made Moab the center of the mountain biking universe needs no introduction.
Slickrock is perhaps the most popular mountain bike trail in the world, boasting over 100,000 visitors per year. Slickrock Bike Trail is a challenging 13 mile trail and is considered by many to be the ultimate mountain biking experience.
Today, Moab is home of the greatest mountain biking on the planet. Moab offers a huge variety of trails for mountain bikers of any experience level, from beginners looking for a scenic ride through beautiful canyons and mesa tops, to seasoned bikers looking for the ultimate challenge.