Tom Moran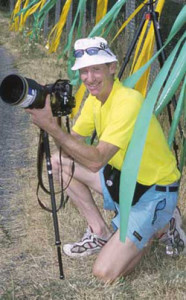 Web Site: www.stphoto.com
I wish to nominate Tom Moran for membership in the Mountain Bike Hall of Fame in the Journalism category. Tom was among the first professional photographers to document mountain biking pictorially and remains active today, at the top of his field.
Tom's primary contribution to mountain biking is in having hundreds of specimens of his work published over the last 14 years by an estimated 100 publications worldwide, bringing high quality photos of the sport to a broad audience via publications within the U.S. and abroad. His work represents a substantial effort to bringing quality exposure of our sport to the public via publications from Velo News to BIKE magazine, Dirt Rag to Mountain Bike, Bici de Montagna to local papers, Sports Illustrated to Outside magazine.
He first picked up a camera as a high schooler in about 1973. He turned to photographing sports when an injury sidelined him from his track scholarship in college, and then quickly took over production of the University of Kentucky yearbook. Hard-working, prolific, and yes, a bit wacky (ranked #1 of "The 25 Weirdest People in Mountain Biking" bike magazine Sept. 1996), Tom began the mountain biking aspect of his photography career at the New England Mountain Bike Championship at Mt. Snow in 1990. He shot the first World Cup in Durango later that year, and hasn't stopped since.
He has followed the NORBA and World Cup circuits, either working alone or in collaboration with fellow lensmen. He continues to follow both circuits today, as well as other cycling events, from the Olympics to the occasional cyclocross or road race. A significant portion of the bike industry– Trek, Gary Fisher, Sram, the Sea Otter Classic, NORBA, Maxxis, Specialized and many other companies– has depended on him for race, rider, and product photos for years.
Tom is equally adept at shooting the action on and off the course, and is acknowledged as a master of the "miscellaneous shot", capturing the human element of the sport.
His archive of thousands of quality images is often called upon as a resource by publications seeking a particular shot of a particular rider at a particular event, and Tom is often able to deliver the goods. He seems to have an encyclopedic knowledge of every picture he's ever taken, and combined with his archiving system, he is able to pull up any slide, no matter how esoteric the request. Need a shot of Tomac doing a nose wheelie in 1994? He'll have it in the 5:00 FedEx pickup for you.
An avid rider himself, Tom had a brief but successful road racing career, and has been known to participate in the sport and veteran classes at the mountain bike races he is covering. Consistent with his character, he can be seen competing in the most challenging hillclimbs and criteriums, sometimes just minutes before or after shooting the pros in the same event.
Perhaps most importantly, Tom has significant respect amongst his peers, and is sometimes referred to as the "grand old man of mountain bike photography".
Nomination Bio from Michael Moran