Don Douglass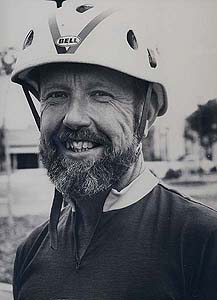 Participant in the early days of mountain biking.
Don began riding the trails and fire roads in the Eastern Sierra Nevada on his 1980 hand-built Tom Ritchey-Gary Fisher Mountain Bike. Mountain Bikes were popular for trail riding in Marin County but were still sleepers for standard bicycle events.
Between 1980 and 1984, Don used a mountain bike to ride the Sea to summit Ride, the John Marino Open, the Spenco 500, and the 1200 km Paris-Brest-Paris ride.
Don had founded Wilderness Group Inc. in 1970, which manufactures Alpenlite outdoor equipment. His interest in mountain biking led him to design and market the first touring bags and clothing made exclusively for mountain bicycling with the trademark names of Kangaroo Bags and Plumline.
Douglass founded and directed the popular races: The Gold Coast Tour and The Tandem Rally in 1978 – 1988.
In 1986 he organized the first 1300 mile Tour of California. In 1985, Don sponsored and directed the first Plumline Outback Mountain Bike Races, which included the Sierra 7500, and the Kamikaze Downhill.
In the first year of NORBA, Don helped Glenn Odell draft the NORBA Code of Ethics and from 1986 to 1988 served as NORBA's Volunteer Land Access Director. He served on NORBA's Board of Trustees until 1991. In March 1988 Don and Gibson Anderson teamed to start International Mountain Bicycling Association (IMBA). They created the educational newsletter, Land Access Alert, developed the IMBA Rules of the Trail and began negotiations with land managers and environmental groups at all levels. IMBA's educational programs have been instrumental in reversing the tide of trail closures and have promoted responsible cycling worldwide. Don served as IMBA's first President until retirement in 1991.
Don and his wife Reanne have co-authored and published more than two dozen mountain biking guidebooks and topo maps. They have explored and documented many new cycling areas in the Sierra Nevada and Great Basin. Since 1967 they have taught and led backpacking, mountaineering and bicycling classes and trips for the Sierra Club and for community colleges to destinations in the U.S., Europe and South America. Among their accomplishments is a 30,000 mile circumnavigation of South America in their sailboat in 1975-76.