Pete Webber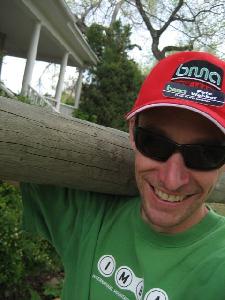 Web Site: www.dailycamera.com
Pete Webber certainly must be near the top of the list when it comes to hard-working individuals who have created better mountain biking resources and access for all of us.
Over the past 20 years, including a recently completed 12-year career at IMBA, Webber has been one of the most influential leaders in mountain biking. His crucial work as IMBA's membership and communications director led directly to the growth and professionalism that marks the organization today. But arguably his most important achievement was publishing two groundbreaking books that have helped shape modern trail development. Those two titles are Trail Solutions: IMBA's Guide to Building Sweet Singletrack (2004), and Managing Mountain Biking: IMBA's Guide to Providing Great Riding (2007). They've become the most important mountain bike trail building resources in the world.
IMBA has sold nearly 30,000 copies of the two books in 60 countries worldwide. They have been adopted as official policy by many land managers, cited in scientific literature, reproduced in myriad websites and manuals, and served as the core curriculum for thousands of trail building classes. It's hard to find a trail boss or public land official who doesn't have these books on their shelf.
By creating these books, Webber and his contributors did what nobody had done before: fully document and share the art and science of sustainable mountain bike trail building and management. He collected techniques and innovations from trail gurus around the world (many of them IMBA staffers) and presented them in an easy to understand format with innovative illustrations and photographs that was totally different from the heavy text and minimal graphics of existing resources. The books have since inspired a new generation of even better techniques and innovations resulting in trails that are more fun and sustainable than ever before.
Webber's career at IMBA started in 1999 when the organization had only six employees (that number has now grown to 44). He has since recorded more time with IMBA than any other staffer. In those days, he was one of the few accomplished racers that truly understood the importance of professional advocacy. After graduating from Middlebury College in Vermont, Webber embarked on a successful stint as a professional mountain bike racer. He rode for Trek and then Team Gary Fisher from 1993-98. His results included many local wins, podium finishes at NORBA Nationals, and success at numerous World Cups and World Championships. Also an accomplished cyclocross racer, Webber was one of the top American 'crossers throughout the '90s. He was second at the elite National Championships in 1993, and raced the World Championships in 1994. Today, as a Master's athlete, he's a two-time Cyclocross National Champion and current Marathon National Champion.
His first role at IMBA was membership director, where he developed professional direct mail campaigns, systematic renewals, and online sales that doubled the organization's membership. He soon added communications director to his title, and led IMBA's many education and PR initiatives. He also guided a revamp of IMBA's stagnant brand, and worked with top ad agencies to create fresh logos and advertising campaigns with memorable taglines like "Long Live, Long Rides" and "What Would We Do Without Trails?"
Webber steered the modernization of IMBA's website and teamed with other staffers to turn it into a worldwide hub of mountain bike advocacy information, free for all to consult. His work writing and organizing trail building and advocacy educational materials are likely his greatest legacy. He's written hundreds of educational articles and was responsible for the worldwide dissemination of resources that have helped mountain bike advocates, trail builders and industry leaders understand every facet of mountain biking.
Webber also helped start many successful IMBA programs, including the launch of IMBA Canada and the successful Trail Solutions program – IMBA's professional consulting and construction arm. Developing a fee-based consulting program was a major step forward for IMBA, and Webber was a key visionary who helped shape the early efforts. Trail Solutions now manages almost $1 million in trail building contracts each year, and employs close to a dozen trail builders.
Mountain biking has always been plagued by widespread myths regarding our environmental impacts. Webber has played an instrumental role in overcoming these criticisms. He collaborated with well-respected scientists to publish resources that debunked the environmental impact of mountain biking and helped verify the low-impact nature of our sport. Webber also created vital resources on liability and risk management, providing land managers with solutions that have allowed the progression of technical trails and bike parks.
Finally, Webber has been instrumental in advocacy for his hometown of Boulder, Colorado. He has served on the board of the Boulder Mountainbike Alliance, and was a member of the City of Boulder Parks and Recreation Advisory Board. He's played an instrumental role in many Boulder advocacy successes, including the popular Picture Rock Trail, Springbrook Loop and the much-anticipated expansion at Betasso Preserve just to name a few. Most recently, Webber has been a leader in the development of Boulder's Valmont Bike Park, serving as one of the early visionaries in the park's planning, and later as lead designer of the facility.
From the global to the local level, Pete Webber has been a truly remarkable force, resulting in better mountain biking opportunities for all of us.
Nominated by Jenn Dice
"Pete was one of the few cyclists that really got the importance of advocacy. He realized that the trails he loved to ride and race, came at a high price and that someone needed to be out there building and maintaining them, as well as lobbying for access. When I hired Pete, he entirely created our membership program and approached it with the full vigor and diligence he had his professional cycling career." – Tim Blumenthal, Bikes Belong, Inductee MTB HOF
"Pete is a great bike racer, a tenacious competitor and I always enjoyed racing with him. With all that being said, what he has contributed to the sport of mountain biking through his work at IMBA and his own advocacy are among the most substantial contributions to the sport ever." – Dave Weins, Gunnison Trails, Inductee MTB HOF
"Webber brought his love of all things bicycle and his fierce focus and commitment from racing to mountain bike advocacy. When he came to IMBA, he created significant new programs, and helped put existing programs on the straight and narrow. He's responsible for IMBA's two trail building books and they're the state of the art for mountain bike trail design, construction and management. He's made a significant contribution to our community. All mountain bikers owe him a deep debt of gratitude." — Jim Hasenauer, former IMBA President, Inductee MTB HOF
"I remember when we hired Pete at IMBA. We had written this really professional ad for the job that said the applicant must have extensive database management experience, 5 years of direct mail experience, 10 years of branding and marketing training, etc. Pete had none of those skills. But I knew he had the soul —and that's what IMBA needed." – Ashley Korenblat, Western Spirit Cycling, Inductee MTB HOF
"I signed Pete to race for Trek back when he was a young east coast racer and he rode on a regional team called Pep/Trek. I remember being at a NORBA race in Michigan and we were looking at riders for the pro team and Pete had his full resume prepared, he sat me down at the foot of the truck and told me what a great racer and representative for Trek he would–and he was. When we switched Pete from Trek to Fisher, he went on to provide great marketing ideas on how to better utilize the team. Pete is an all around guy and I think what he's doing now-taking his family to Europe to pursue master's cross speaks to his ability to follow his passion and balance it with his personal life. Pete is intelligent, true, thoughtful and a great representative for mountain biking." – Mary Monroe, Trails 2000