Otis Guy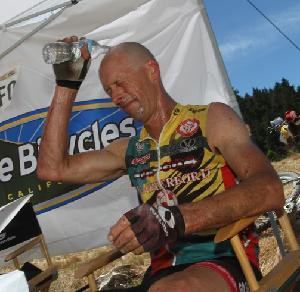 Web Site: www.otisguycycles.com
Otis Guy-Class of 1993 Bio
Since he took the training wheels off his 20-inch Schwinn 1958, Otis Guy has spent much of his life on the pedals. He started racing road bikes in 1970, helping found Velo Club Tamalpais, the first racing club in Marin with a roster that grew to include Joe Breeze, Marc Vendetti, Charlie Kelly and Gary Fisher.
It was Vendetti who introduced Otis and the other roadies to the late 30's and 40's balloon tire Schwinn's they first took on the trails of Mt. Tamalpais. The mountain had always been an influence and escape but the bikes opened remote areas they would never have hiked. In the late 70's, Marin County was in a drought and the Trailside killer was murdering people near trailheads in Marin and Santa Cruz.
The trails were deserted and Mt. Tamalpais became a playground for Joe, Marc and Otis. They would hang up their road bikes in the off season and ride up Tam with a trail map in hand. In those days few of the trails were wider than handlebar width. They would wear jeans, garden gloves, hiking boots and long sleeve shirts to protect themselves from the vegetation. Those early explorations were instrumental in bringing the joys of mountain biking to the world.
Otis, Joe and Gary were deeply involved in the road cycling scene and had the ear of the industry so what they had to say about these new creations actually mattered. They never stopped pedaling. Otis became the only person to race in Repack, (the first organized mountain bike race, winning once and posting the 3rd fastest time ever recorded), the first National Mountain Bike Championships in 1983 and the first World Mountain Bike Championships in 1990.
Guy has built bicycle frames since 1982 and had his own racing team for many years, the first team to ride full suspension cross-country bikes. Otis was an early advocate of road seat tube angles, steeper head tube angles and shorter chainstays on mountain bike frames.
He became a proponent of bicycles for transportation and twice attempted to ride from San Francisco to New York on a road tandem with Joe Breeze in 12 days to help show that if you could ride across the country that quick anyone could ride to the store to get a quart of milk. He still rides today and now has a summer mountain bike camp for kids in Fairfax. What better way to keep the cycling flame alive !