Tim Gould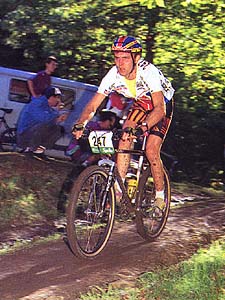 Teammates Tim Gould and David Baker, and the arrival of Team Peugeot on the British mountain bike scene in the late 1980s, heralded a new age for the sport. Bringing along their Pro road and cyclo-cross fitness with them, they simply rode off the front of mountain bike races time and time again until competitors woke up and raised the level of their preparation to compete. The real achievement was that they did all this without ever upsetting anyone, or being branded as "road" outsiders.
After a string of World Cup victories and podium placings through the early 1990s, Tim was hit with a sudden mental illness that derailed several seasons of racing for him. The fact that he now talks about this so openly and frankly and still stuck with professional mountain biking, through years of medication and disappointing performance, reveals the strength and determination of the man. Tim is still racing for Britain internationally and for the new Extralite racing team on the national circuit, and he's set his sights on the 2001 Worlds at Vail. "It's a great course for me, it'd be great to go out with a bang!"
Even after World Cup and NORBA victories, and still with a legendary climbing reputation on the international race circuit, Tim is still the same easily approachable, affable bloke from Manchester's Rochdale, with the same trademark sideburns. A true ambassador for British mountain biking.