Steve Boehmke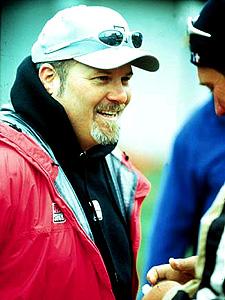 A Beast of passion. That's how I would define Steve Boehmke. Lucky for all of us, his passion is bicycles – and for over 2 decades, more specifically – the mountain bike. A case study of Steve Boehmke's life is witness to the myriad of benefits found in a fetish for cycling. He's been a fanatic for bicycles since before he started jumping his moto-modified Stingray on the dirt lots around his hometown in the late sixties. While his roots in the dirt started long ago, Steve's enthusiasm for the sport remains as fresh as ever.
Is it really any surprise that Steve would remain a freak for cycling when his first mountain bike experience was participating in Victor Vincente's
Reseda to the Sea race back in 1981? We all know of Victor's intoxicating enthusiasm for cycling, and over the years Boehmke has proven to be a tireless disciple as he's circled the globe time and again promoting the
benefits of cycling to all who come within range of his booming laugh and zest for life.
Whether it was helping develop revolutionary new products at Shimano (HyperGlide Cogs, SPD Pedals and Shoes, RapidFire Shifting, both XTR groups,
and XT Disc Brakes), scouting out the worlds best riders for Shimano and RockShox, coordinating legendary season-ending parties that would embrace
athletes and fans together at ground zero of the racing phenomenon, or lobbying the bike industry to help pass the Safe (bike) Routes To School legislation, Steve has spent the last 20 years as an ambassador for cycling.
Pivotal programs that Steve has been instrumental in creating are RockShox' BlackBox and Shimano's SKUNK Development Programs. Both programs provide testing; development and promotional platforms for the products that eventually make it to the mountain biking public. In addition, he named the "Get Back On A Bike" campaign that is currently being used by The Bicycle Council to increase participation in cycling as a whole.
Currently Steve has his own Public Relations and Marketing firm – Chunky Flyrite Enterprises, which provides services to Giant Bicycle, and the California Bicycle Coalition, among others.
"I've just been lucky enough to be at the right place at the right time for two key sports – Mountain Biking and BMX," states Boehmke, "and to have built a career working for industry leaders like Shimano, RockShox and Giant is more than anyone could ask."
Although I agree with Steve that before anyone else is nominated to the MBHoF, Paul Turner should be inducted, I give my whole hearted support for
Boehmke's nomination. In an age of the jaded and disillusioned, I can honestly say there is not an ounce of cynicism in Steve Boehmke. His purpose here on earth is obvious – to get more people having fun by riding bikes. He's committed himself to that noble pursuit, and for that, his place in the MBHoF seems obvious.
Bio written by Zapata Espinoza
MBHOF note; Paul Turner has declined placement on the MBHOF ballot. Turner has been nominated many times by many folks, including Zap. Should the Mountain Bike Hall of Fame insist that Paul be on the ballot? We think not, and respect his wish to be excluded.