Dan Koeppel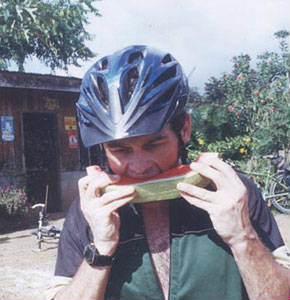 Dan Koeppel began his career in mountain bike journalism in 1988, writing a profile of Chris Chance that appeared in Mountain Bike Action. Since then, he has gone on to write for nearly every major cycling publication, including Bicycling, Bike, Velo-News, and, most notably, Mountain Bike. In 1993, Dan was hired as the mountain bike editor of Bicycling, where his job was specifically to manage the California-based transition of Mountain Bike from an insert in its parent magazine to a separate magazine. One of his first moves was to suggest the hiring of Zapata Espinoza, then editor of Mountain Bike Action, to run Mountain Bike. (Dan himself gave up a career as more conservative journalist, giving up his position as Los Angeles bureau chief for MediaWeek, a prominent entertainment business Magazine, in order to take the Mountain Bike job.)
With Zap on board, the two went on to bring Mountain Bike from an initial circulation of 40,000, to the industry-leading position it occupied through the 1990s.
In 1996, Dan left MB to found one of the first action-sports related websites, Charged, which was nominated three times for a Webby award. At the same time, he continued to write his popular "Hug the Bunny" column in MB, which has now been running for more than a decade.
Today, in addition to his column, Dan writes about mountain bikes – and other topics – as a contributing editor at National Geographic Adventure; he's also written about bikes for Elle, Men's Journal, Martha Stewart Living, the New York Times, and Travel-Holiday.
If he's made a major contribution to bike journalism, it has been to reduce the seriousness of the so-called "profession." To him, having fun is everything. Donuts are a better fitness food than energy bars; Dan tries to
represent the rider who is uninterested in heart-rate monitors, leg shaving, and obsessive mileage counting; he's more concerned with nature, adventure, and the goofy thrills our sport seems to conjure so often.
"As much as Dan is appreciated world-wide for the sense of fun that he's brought to the sport, he should also be recognized for the serious side of cycling journalism that he's contributed. In 1993, Dan introduced his
Eco-Trail column, which highlighted the environmental side of the mountain bike experience. In 1994, Dan turned heads as the first journalist to report on the spate of growing injuries which resulted from the industry's rush to market lightweight parts of substandard manufacture.
From the serious to the silly, Dan has been an enthusiastic and inspiring contributor to the sport since the late 80's. "The bike industry can count itself lucky for Dan's devotion to providing a comfortable and inviting
atmosphere for riders of all levels and backgrounds. His handshake with newcomers is not some artificial manifestation of trying to be cool. It is authentic and deserving of his nomination to the Mountain Bike Hall of
Fame," said Zapata Espinoza, a hall-of-famer himself.
Dan doesn't pretend to be fast or all that skilled. He has done some pioneering bike journalism and touring; he accompanied John Stamstad on his record-setting transcontinental off-road marathon; he was the first mountain biker to visit and write about Mexico's Copper Canyon; the first to write about the Tour de France from the perspective of a cheese lover; and the first to incontrovertibly prove the tenuous connection between mountain bikes and donuts. Most recently, he examined the Marin County trail access controversy in Bicycling; he also profiled hall-of-famer Joe Breeze, and his efforts to get Americans to adopt bikes for basic transportation.
His primary contribution to bike journalism – and to the bike community -has been to recognize that bike journalists are elite, pampered, and often foolish oafs; his steadfast insistence on serving the reader and the
mountain bike community changed Mountain Bike and Bicycling. "That influence shows in every bike magazine published today," Espinoza says.
"When I quit my 'real' job and went to work at Mountain Bike," Dan says, "my old boss told me I'd just ruined my career. I can't think of a better way to destroy oneself than to on a mountain bike. Being able to write about the thing I love the most has been the greatest blessing of my life."
Finally, though it initially appears to have little to do with off-road cycling, in 1994, Dan wrote an episode of "Star Trek: the Next Generation," which featured a strong, tough female character. Dan did what any true mountain bike aficionado would do: named her Juliana, after Juli Furtado, who was in the midst of her famous 18-race winning streak at the time (the episode is called "Inheritance," which appeared during the show's seventh season.)
Bio Submitted by Matt Phillips, edited by Dan Koeppel